Ok, as promised, some house pictures! And just a precursor, I will not be blogging about the house
Young House Love
style. :) I love their blog, them as people, and their house, but blogging is their job, so they have time for all those lengthy posts. I'll mostly just post pictures throughout this LONG process with quick descriptions of what we did, so if anyone has any questions about ANYTHING in particular, just comment or email me, and I'll answer!
This is the back of the house, kind of an odd shape. Once we add a wrap-around deck of sorts in a year or so, I think it will really help balance out the shape! We will also be redoing the entire outside...adding rock to the front on the pillars and garage and chimney, panting the brown pieces white, putting a sort of shake on the top half of the house (like in the peaks), and repainting the stucco on the bottom half of the house.
This is the side of the house, a sort of driveway back to Derick's shop (that he wishes could be first on the list of renovations). :) That mess there is what was left behind after a mobile home removal. Not fun. We've taken about seven loads truck and trailer full to the dump! And still not done. The outside/yard of the house almost needs more work than the inside.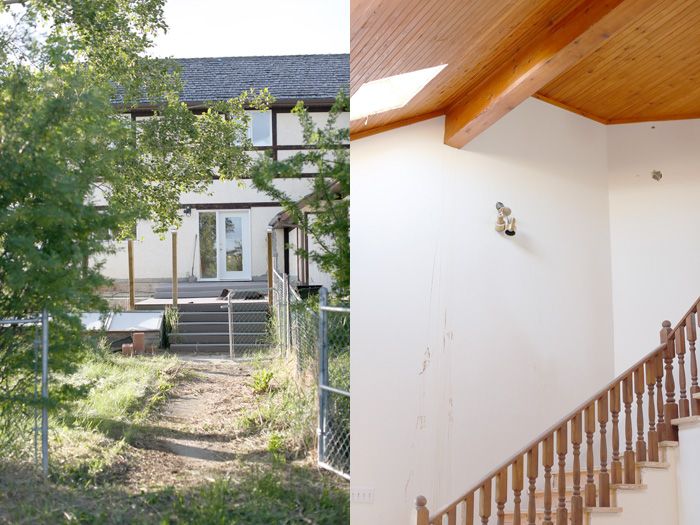 Here's a side view...those are the patio doors leading off of the dining/lounge area. You can't really see it, but tucked up there will also be a balcony we are going to add off of the master bedroom one day! :)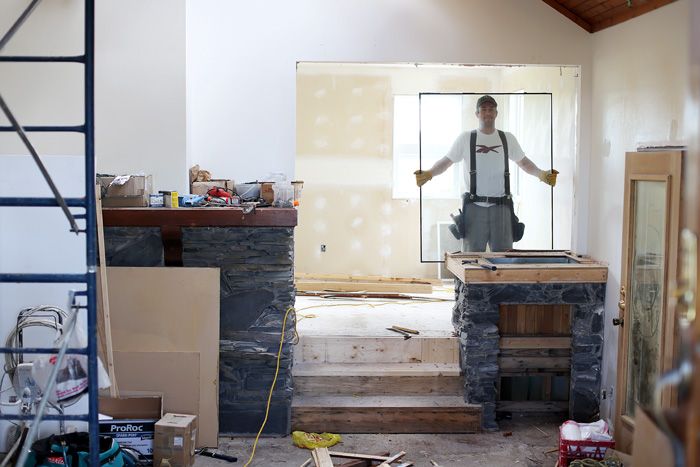 So this is the view as soon as you step in the front door, which will basically be the Living Room. You know, the one you only sit in when the Home Teachers or Visiting Teachers come over? :) Quite frankly, this is the only part of the house I don't like. Big wow factor, big useless factor. At least it will be killer cute, and I'm sure it WILL get used...especially if we have lots of kids! Ha ha. Derick's standing in my office...and removing a lovely glass partition. :) The fireplace will be ripped out, and the sunken floor you see there will be raised...better flow. Those french doors on the right lead into the family room.
So other side of the fireplace in the Living Room...the entry into the next part of the house will be moved to where you see those cutouts in the wall, so I'll have a longer wall space in the Living Room to actually put some couches up against. And again, floor raised...and new fireplace, a wooden one with trim and stuff. :) And I'm going to wallpaper the stack you see there that goes up to the roof.
Same place as the picture above, just the view above. Most of the house has this amazing solid wood paneled ceiling, and I feel terrible painting over real wood, but it is a necessary evil people. :) I'm thinking of leaving the beam brown though...I can always paint over it if I don't like it.
And what's through those french doors, the Family Room. That wooden fireplace will eventually heat Derick's shop in the winter! There's a door to the backyard you can see in there which will be taken out and be replaced by a big window...and another window will also go in where the fireplace will be removed.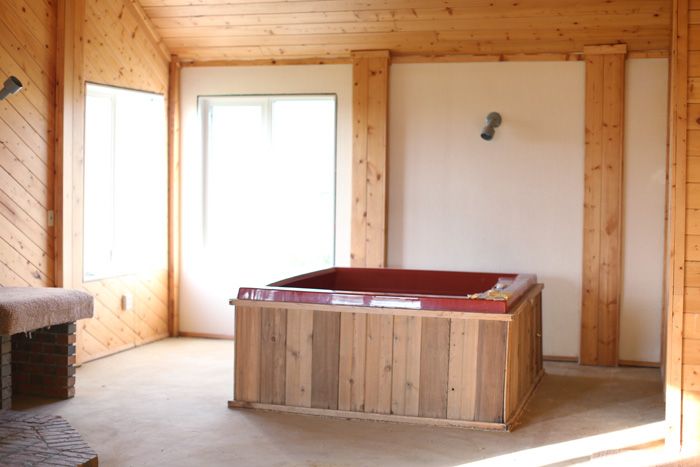 Our sweet 30 year-old hot tub. Hasn't been turned on in years! One day we'll try and fire it up...hopefully it works and we'll move it to the deck! EVERYTHING in the whole house will be replaced except for the paneled ceilings...so will have to rip out the paneled walls and re-drywall them. And where the windows are in the above picture will be our smaller piano/music room.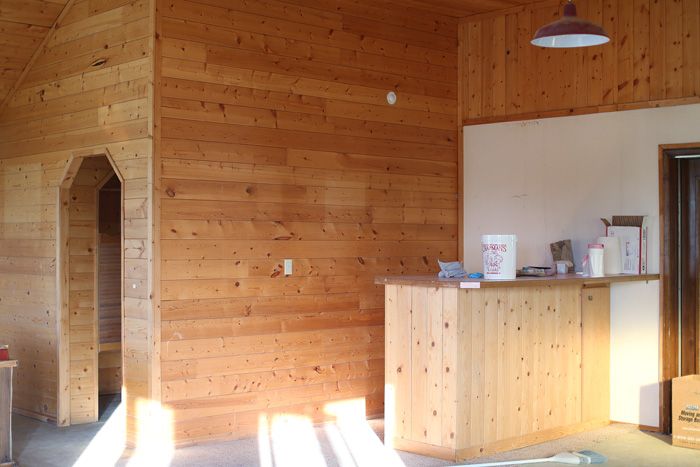 And inside this cedar beauty (and partly in the hot tub area too) will be a big guest room, but it will have a murphy bed and a hard floor so that when I don't have guests (otherwise referred to as Jolene and her five and counting kids!), it will be our (Derick's) mini gym, and it will also double as a simple natural light studio for those times when I need one! Yeah, I've thought about this house JUST a little bit. :) There's also a bathroom inside that cedar gem, which will have two doors into it, one from the bedroom, one from the Living Room. The Living Room will carpet, but the rest of the main floor we're putting down vinyl planking.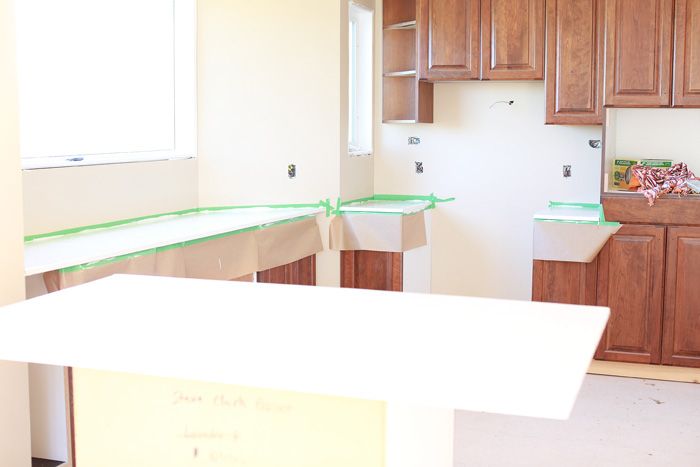 So the kitchen is through the Living Room and to the right. I really thought I took lots of pics, but I am not realizing I've left lots out. Next time. :) So the cupboards were all ready in and the plan was to sell it all and start fresh, but since we now have to get the house complete before we get our mortgage, we added some fancy dancy plywood countertops and PAINTED them with melamine paint for $20. Lol. Why spend money on something you're just going to rip out? That big window overlooks the backyard. :)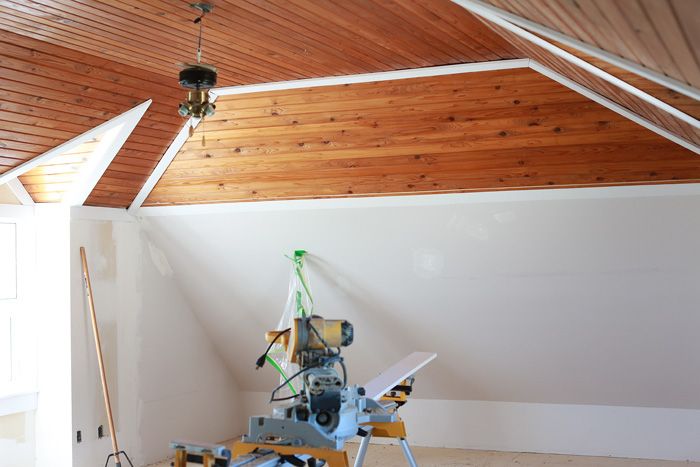 Then boom, here's the master bedroom! Part of it. Derick had to add all the white parts of the trim you can see...and he's all ready painted the ceiling white and it looks awesome!!! It's so hard, like painful being in Lethbridge working while he stays in Cardston working on the house every day. I just want to be there, cleaning up, doing what I can to make things progress. I've done a lot of the yard cleanup and even made two runs to the dump with my parents. :) The master has an en suite and a great window that you can see chief mountain out of...I get so excited when I think about renovating this house together I nearly pee my pants! But since Van's been partially wetting himself enough on his own these days that I think I can control myself for now. :) Anyone have any tips how to stop that by the way? We hard maybe getting him a watch that beeps and reminds him to go? Its imperative we get this fixed...school starts soon. ;)
Anyway, that's a good start anyways! Here's the best part, this is pretty much what the house looks like today, we are going to Kalispell, Montana for supplies in a few days, Kelowna, BC for a week soon, and our renters are moving in Sep 1 meaning we will be LIVING in this house as you see it as of Sep 1. Yup. Doesn't leave us Derick much time! I'm just hoping that by then, the upstairs is painted so we can plop down a bed on the wood floors in each room and hang our clothes in the closets. It would also be great if the new toilets were installed by then so we don't have to use the super gross one in the cedar cave.
A working shower would be good too...that one isn't as far away as the toilets/painting. The shower in there is in even worse condition, I'd rather take my chances with the hot tub for bathing! Lol. Family bathtime anyone? And a kitchen sink/working appliances would be swell too, (appliances are in the garage, sink will be bought soon), but heck, I'll just be happy if Telus miraculously can set up the phone lines so I don't have to miss any work. It's pretty much going to feel like we are ghetto camping in the Family Room area for the next six months, and call me naive, but I think it's going to be fun! Probably because NOTHING excites me more than interior design crap. :) Poor Derick. Sure love that guy.