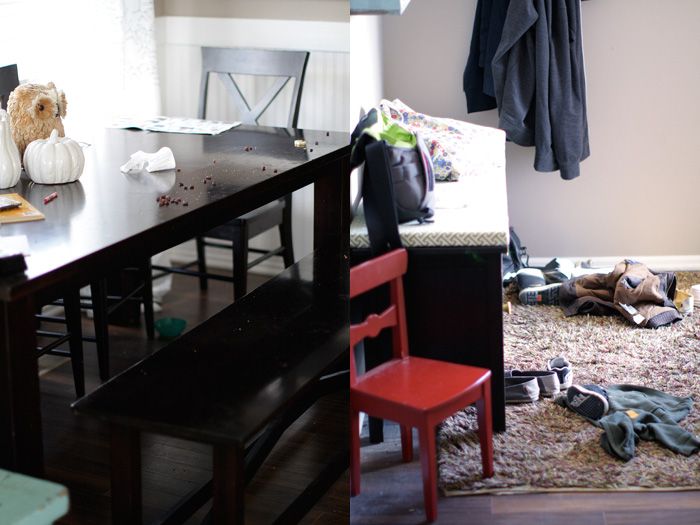 I get paranoid that anyone who reads my blog would think that my house is always as clean as the little tours I do now and then. Because that is definitely NOT the case! So here's some pictures to prove it. This is what our house looks like on a daily basis. Please note the huge pile of dust collecting under the bench by the back door. :)
I've never washed my windows and I rarely wash our sheets. Yep, you read that right. I'm downright disgusting. I can't remember the last time I showered two days in a row...sometimes I only shower every third day. (Combine that with the lack of sheets washing...and yup, double gross.) I only change out of my sweat pants on Sundays (and Wednesdays now since I'm in YW), and I almost never wear a bra (except in public of course)! :) I think they are one of the most uncomfortable things EVER. (I know what you're thinking....what a lucky man Derick is. Right?)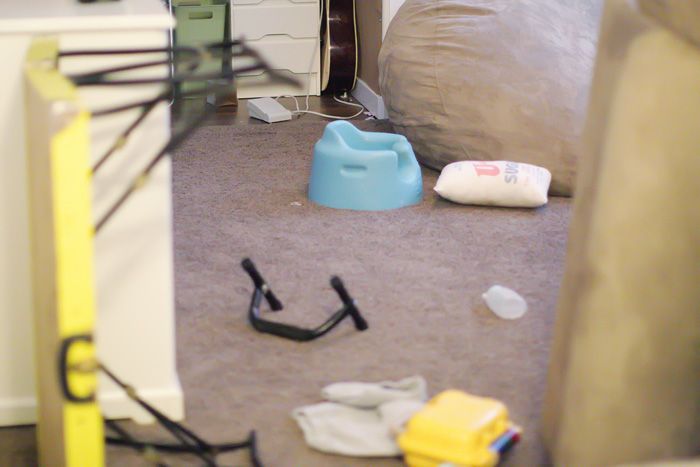 And since Derick works out in our basement, it almost always looks like this. The couches get turned into forts to distract the kids while he works on his physique.
He is pretty darn good at putting everything back together, but again, this look is par for the course around here. And if you'll notice below, you can see the remnants of what used to be my cute bulletin-board wall. Baker (and Boston) had their way with it...ripping it apart to their little heart's content. Sad day!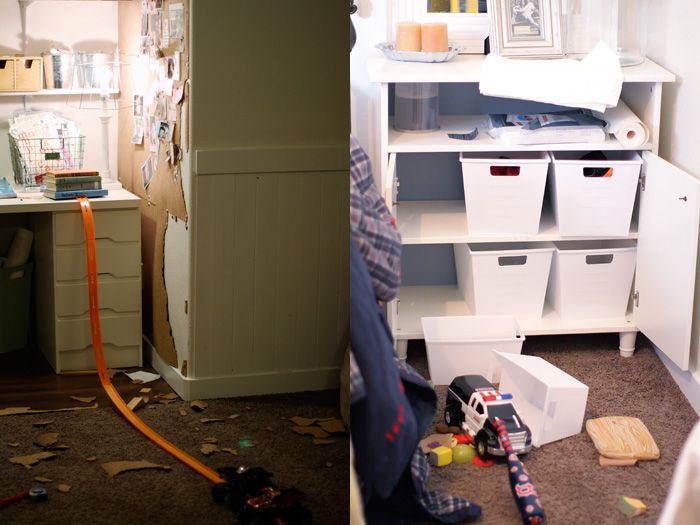 And while it may appear on the blog that I'm on top of a lot of things, trust me, I'm NOT! Remember, people don't blog about all the things they failed at! I don't take pictures of my pathetic appearance and blog all about what a slob I looked like that day. I don't take pictures of my dirty toilets or the crud stuck to our high chair.
So my lack of personal hygiene and dedication to certain parts of my house is a big reason why I manage to get other things done around the house. Here's the rest....if I'm being honest.
1. I don't cook. Like ever. Never ever. Derick does ALL the cooking. And it's dinners like Coconut Thai Chicken and Cordon Bleu.
2. Derick cleans the bathrooms, has taken over the job of washing the sheets (can't imagine why), does all the vacuuming, cleans the kitchen floor, does 75% of all the laundry, and puts the kids to bed on his own 4 out of 7 nights a week (at least). I'm sorry if you feel like slapping me.
3. Derick gets up with the kids every morning and lets me sleep in. (Just imagine what you could do waking up fully rested every single day!). He also gets up with any kid at night that isn't a baby who needs breastfed. :)
4. Derick does 100% of the grocery shopping, and with all three kids. I'm sure Superstore think he's a single dad. I get to come sometimes on my days off, but for the most part, he takes care of that stuff.
Now, just imagine all the things you could get done if your husband did all of those things! :)
I'm actually always really nervous about sharing how much Derick does around the house. Even though I work as much (and as late) as I do, I can't help but feel like people probably think I'm a waste of skin for letting him do so much. But the fact is, he does those things when I'm physically working in our basement...I couldn't put the kids to bed if I wanted to, or cook dinner for that fact (I could do something in the crock pot I suppose...and once he starts working, I'm sure I will!) And if I WAS buying groceries and doing all of the cleaning, (we each do about half of it...I clean the kitchen every morning when I get up, and I do all the deep cleaning...the fridge and walls and blinds, stuff like that), then I'd be a huge stress basket and there'd be no way I could put in the hours I do to support the family. Call me a wimp, but especially with my new blog design business, I have about a billion things to keep track of, and a lot of people to answer to and deadlines to meet, so what we have works for us, and I don't feel the need to defend it by any means, but I do like explaining it!
I just can't tell you how many other blogs I've come across that have immediately made me feel like a big huge failure. And it's nothing they've even said, it's just what their life LOOKS like to me. (For me, it's the design blogs that make me feel crappy...I wish I was so much further in my career in that regard). BUT it is just craziness to compare ourselves!! (One blog in particular I was super jealous of one day had a post about how much they wish they had a family/kids of their own...and I wanted to slap myself for wishing for any part of my life to be even a tiny bit different than it is right now.)
There's absolutely no way possible for someone's blog to reflect what their life is really like, so just PLEASE don't ever think things are just roses and peaches over here. (I just made that phrase up.) Our life is normal...our house is messy, our marriage can be hard, our kids can drive us insane, and I PROMISE I'm grosser than you. And don't forget it! :)