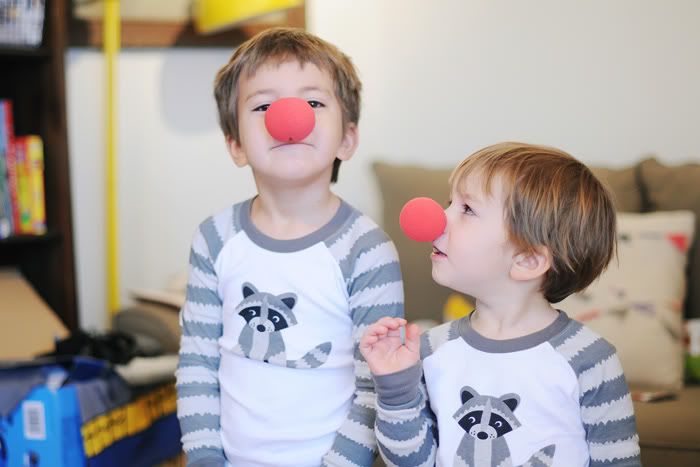 I was printing pictures to finish off our 2011 family album and thought I'd share some Christmas pics. They were all shot with my sister's back-up Nikon D90. It doesn't have the greatest Auto White Balance (you can tell the pictures are sort of purplish/blueish), but I thought I'd share anyways! I thought these clown noses would be fun for the kids. I ordered two off Amazon. I got two bags of noses instead of two noses. Lol.
I find Christmas hard to take pictures of because the sun is constantly changing as it slowly rises since you wake up to almost totally dark outside, and I wasn't about to take a custom white balance with every other picture, so oh well! (Read up about custom white balance in your manual if you're not sure how to do that...manuals are awesome for that kind of stuff!) Ordered those glasses off of Amazon for Derick's stocking (since he majored in General Science for his Education Degree...which makes him a science nerd in my books).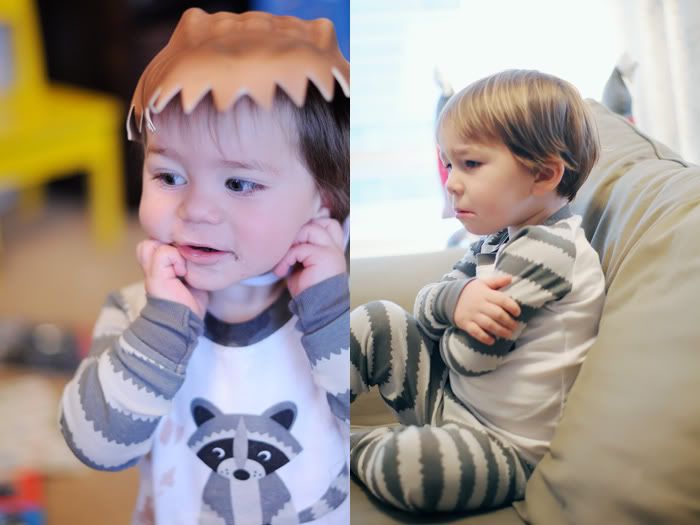 The kids' got two main presents this year, a bunch of different dress-up clothing and a box of legos. The legos are in a flat tupperware under Van's bed, and have so far managed to stay only in his room and not all over the house, which makes me super happy! We got almost every single thing for their dress-up trunk on clearance after Halloween. Van was in love with his Buzz arms. I meant to make all sorts of handmade accessories to go with the costumes, buuuut I didn't. I figured it would be fun to make stuff with the boys. Crafts they'd actually be interested in...and then be able to appreciate how much time that stuff takes! A jet pack for Buzz is number one on the list.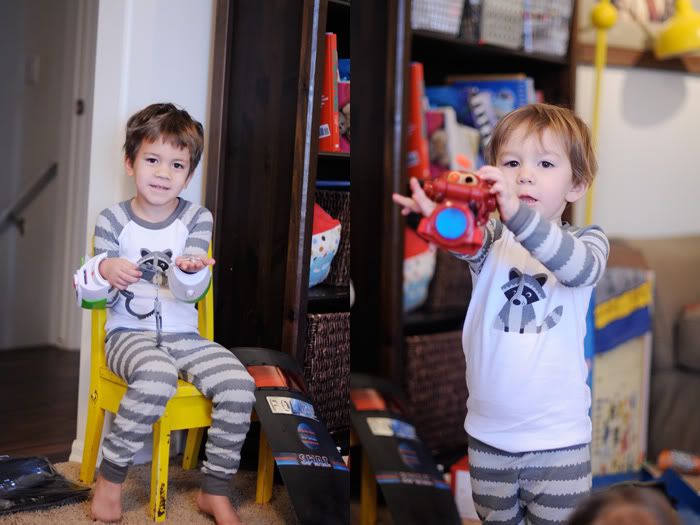 We did our annual purge of a bunch of toys right before Christmas...I have this weird thing not wanting my kids to have a ton of toys because I didn't have a lot of toys. Yeah, it's weird, I know...most are the opposite. Maybe it's really because I just don't like the clutter in my house, but really, I think the play better with less toys than they do with lots! Our boys always pick up babies at other peoples' houses, so we bought them the Ikea babies for Christmas. Turns out, Baker's the only one who likes them. :)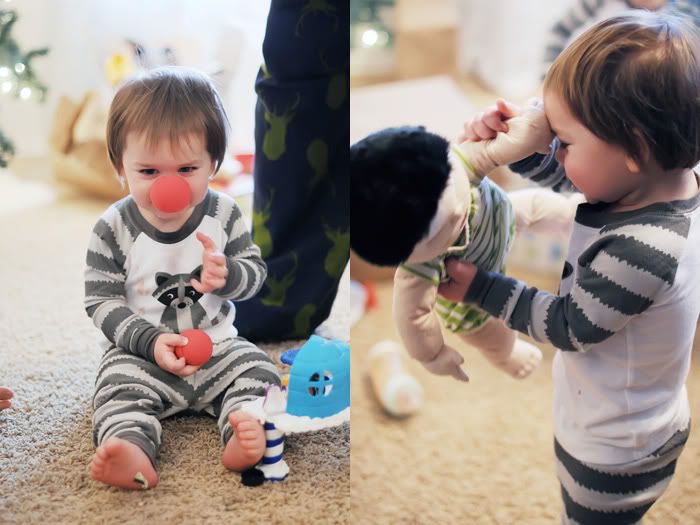 Or maybe it's because the song on Toy Story always makes me cry when the little girl drops her toys off at the end of a road to be donated. I seriously had a BOND with my few toys growing up, and want my kids to have the same bond! I KNOW. I'M A LOSER.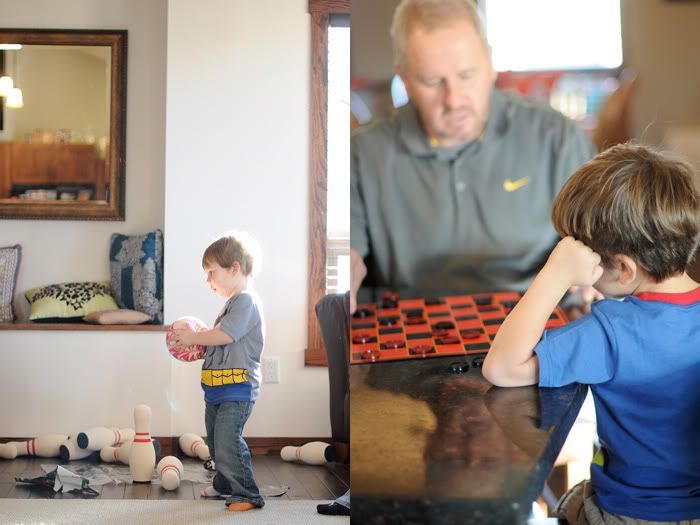 We had Christmas dinner at Derick's parents' house, and I loved Van concentrating so hard trying to play checkers with Grandpa. And meanwhile, Boston played with
the new bowling set
from the Land of Nod they got from Grandma and Grandpa..it is seriously the cutest bowling set ever!! The bowling ball is the best touch of all..it's all so real. I'm so in love with it! And just to note...you can tell the white balance is better in these last two photos, since the light was really great in there, the auto white balance worked a lot better!
Oh, and speaking of our family album, I plan to try and photograph it and share it soon, but in the meantime, check out what my
awesomely-talented friend Ashley
does with her photos! Make sure and check out her equally awesome photography while you're there. :)
I've had so many nice comments about our
video
. I seriously can't express how much I love it, and how much I know others will too if they have one done. I've had some say they wouldn't be able to do something like be videoed in a grocery store, but the point is to just do whatever it is that you do as a family! Whether it's playing monopoly or cooking dinner or doing laundry...it's all cute. Families are just cute!! Any size or shape...including whatever shape your house is in...I PROMISE! Heck, it would even be cute without kids! For some reason it's accepted to be all mushy/cute in engagement shoots, and wedding pictures, but then never again until you have kids, and I disagree!! You don't need kids to validate documenting your life in such an awesome way! :) That was random.
Lol...I just heard Derick say (yell) to Van, "why the heck would you bite me????"A game of wrestling always seems to end in a good bite! Ha ha.
Other random note. My job would be lots more fun if the Raptors or the Flames EVER won. Heck, I'd be happy if Canada's only UFC fighter on the card the other night had won!! But nope. Guess the nice guys always finish last!