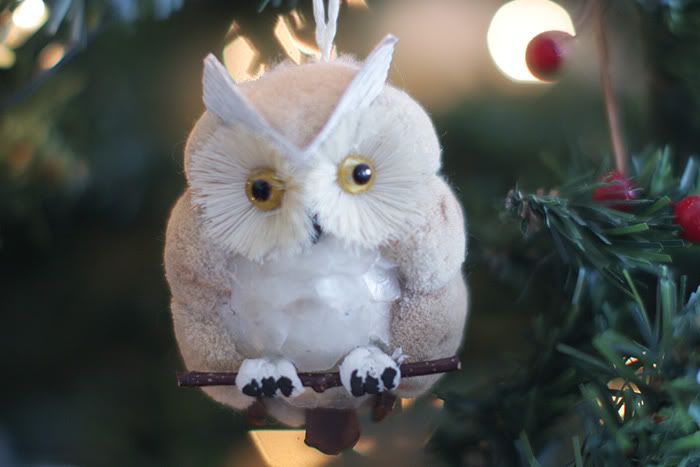 I thought I'd share a few of our Christmas decorations. I bet everyone (except you Jolene...ha ha) is having the same problem as me...trying to mix our older "country" decorations with our newer decorations..whether the newer ones be the more fancy/classic look or a more vintage feel. Isn't it so annoying?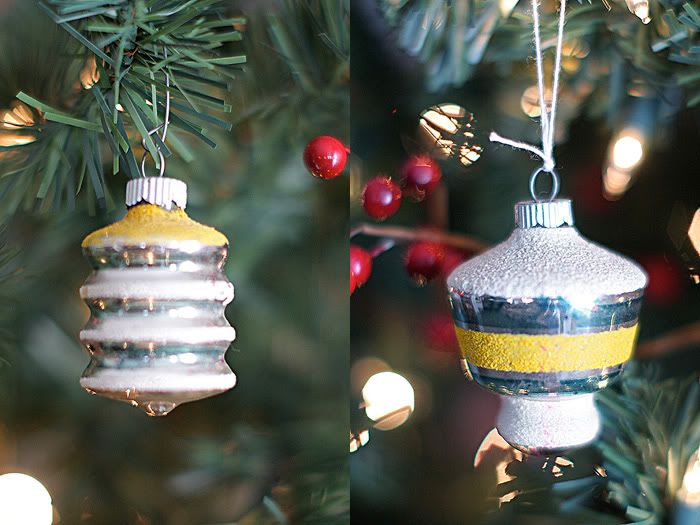 I like the more vintage stuff, and it actually mostly matches okay with the country stuff, but I did do one or two things to try and tie it all in together. I LOVE these antique christmas ornaments. I picked them up this summer at the antique store in Babb, MT. My Grandpa and Grandma Bennett used to have a ton of ornaments just like these...of course they were all tossed. Yep. TOSSED. I was in high school when my mom went through their stuff, and kids weren't "allowed" to help. Ha ha...and I pretty much bug my mom about it every chance I get because they just tossed so much stuff!! Tear.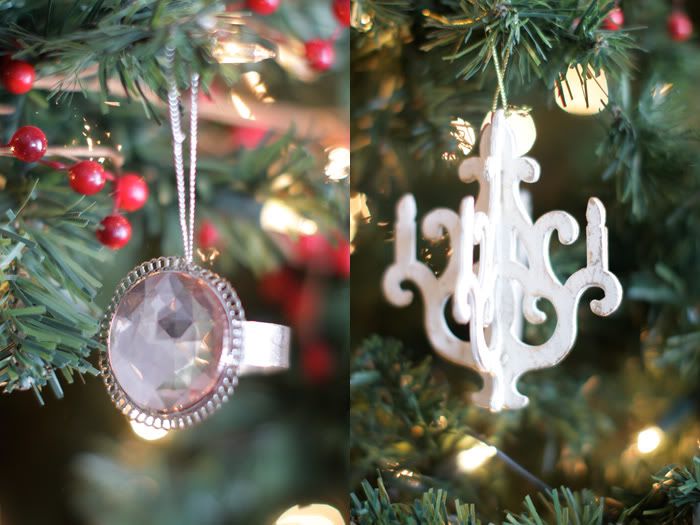 Aren't the rest of these decorations so fun and cute? They are from Canadian Tire!!! I am in love with these owls! I'm going to hang them as a mobile in Baker's room after Christmas is over. :) Go get some!! The chandelier is from last year though...but the other large emerald ring-looking thingy is there now. I think it's dainty and cute and vintage feeling!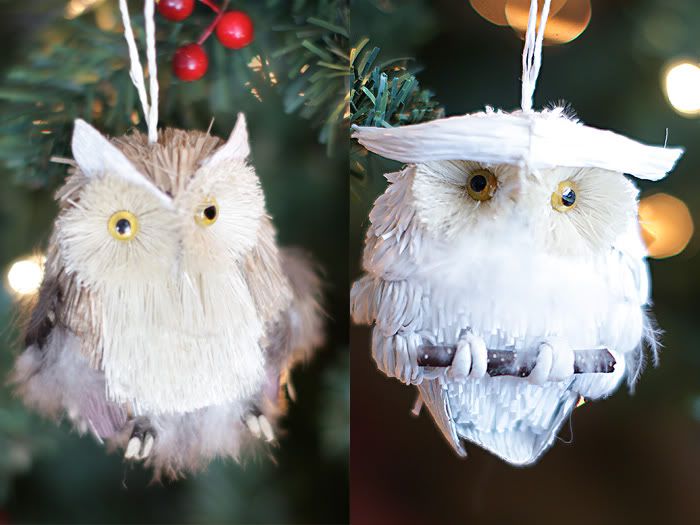 I feel like the blog's been boring lately. Hopefully this will liven it up. :) I should update the fact that I took the Canon 7D back, and am now on my sister's backup Nikon! :) I need to find a home for my orphan lenses ASAP. The 7D DID have great focus, but it's ISO handling was terrible. My 40D was much better!! Yes, I all ready miss my 40D. Lol! I am keeping my eye out for a used MarkII, and if I don't find one sooner than later, I'll prob bite the bullet and buy one! :)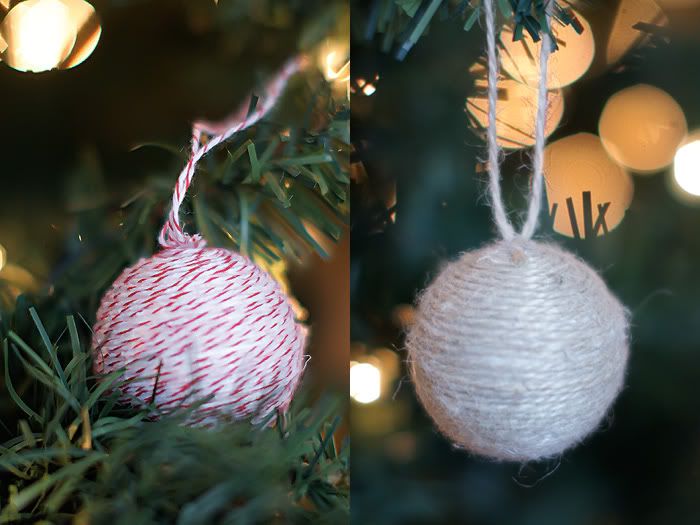 I made these last year...love them. I need to make more of the baker's twine. They took FOREVER. Maybe I'll make one every year! Lol.
LOVE the two 25s in my house in vintage numbers. Especially love that my pal Jordyn hooked me up with the 2. (I made one to match last year...not as cute. Want it?). Love my Superstore stockings...I have homemade ones that we use...another post for another day I guess. But I LOVE these ones...at first I bought four to just "look cute". Now I wish I had one to represent each family member. Anyone want to sell me theirs? ;) There's a lot more cutesy Christmas cards up there now. I feel like a real adult exchanging Christmas cards with people! Lol.
This white reindeer was from the dollar store last year. LOVE HIM.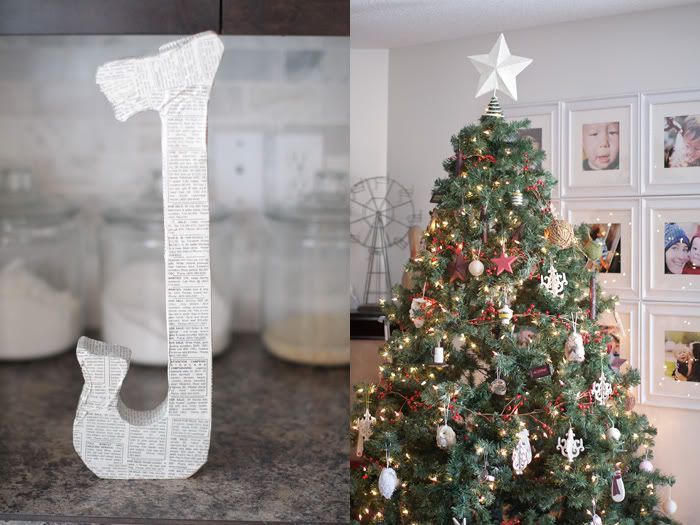 Ok so this is one of the things I did with my country stuff. These letters are wooden and used to be painted all country-ish. And I modge podged them with the classified ads, and now I love them! See the perfect red wooden star about three-quarters way up? Our first Chrsitmas was in Pittsburgh. We drove there with only our car and what would fit in it. We slept on an air mattress that was flat every morning. We sat in camping chairs and played Phase 10 on our cooler. We had $70 in our bank account, and we spent it on a tree stand, and the nicest real tree ever, and some Ikea decorations. We didn't give each other presents, but Derick gave me that one wooden star from Target and wrote on the back "Dear Pam, Our First Christmas 2004, Love Derick". Yep, he's the best.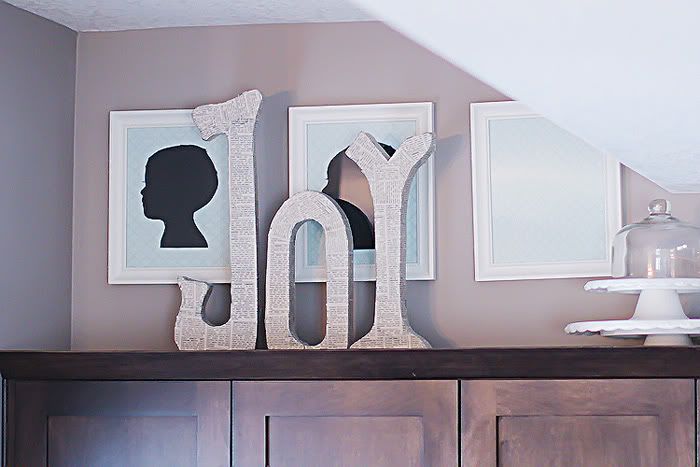 Below is a TERRIBLE picture of our Merry Christmas frame I bought the first year we were married. I.love.it. So classic and perfect.
These snowmen are totally my favourite too...I also got them years ago. Aren't they so cute?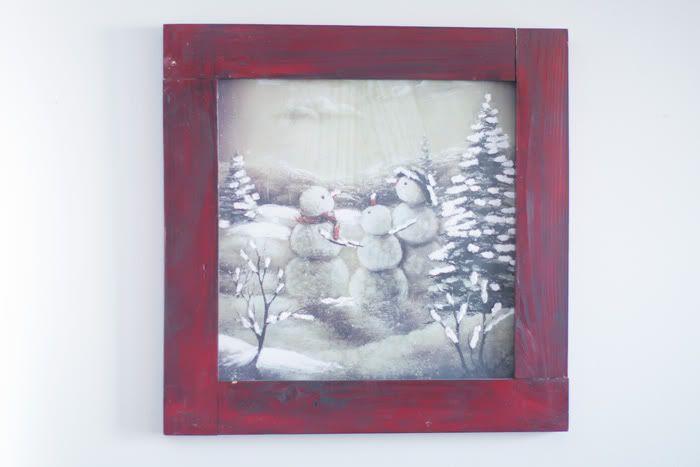 Got all these trees from the dollar store except the bigger one is from Michael's. I would love to eventually have a collection in jars and on cake platters like I first saw Maggie Holmes do. I'll be nice and find the
link for you!
Check it out..it's super cute!!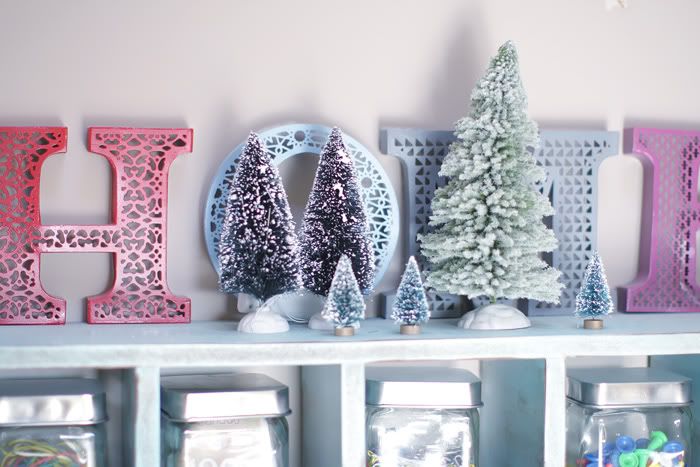 And yup...that's my plastic pumpkin I carved this Halloween. Lol. I had the pictures hanging around, and I didn't want to hold onto it until next year, so there you go! :)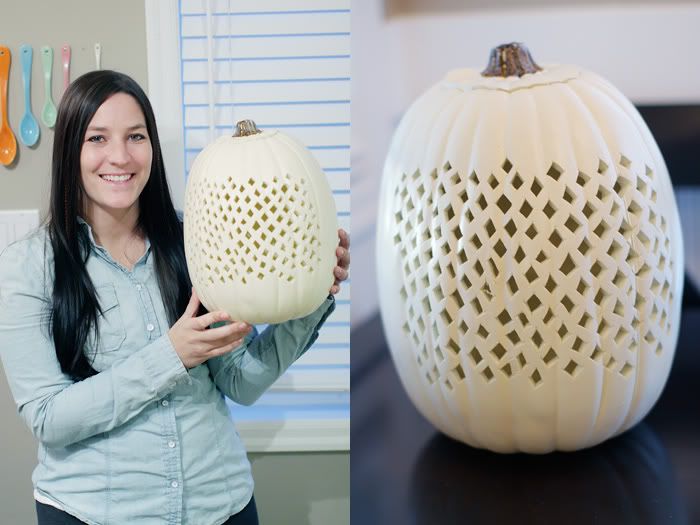 A few random facts.
Derick graduates this Christmas as a teacher. YESSSSSSS!!!!! No more tuition! He's going to sub starting January hopefully. It's going to be hard getting used to having him gone all day. Yes, I'm spoiled, but I work night shifts, so having him gone all day just isn't worth it! :) So here's to hoping he doesn't get called to sub more than a few times a week! Ha ha. I'm excited to be moving to the next part of our lives...I've supported our little fam for nearly eight years now! It will be fun to "graduate" from being students!
We went to Calgary to my work party over the weekend and I bought new boots and found a shirt I'd been eyeing at Anthro that was even on sale all in less than two hours. That never happens! My first pair of leather boots. Yes, I am excited! Ha ha.
I got asked to take photos of the kids in my ward with Santa...guess whose kids I DIDN'T get a picture of? Mine. They were deathly afraid of him and wouldn't go near him. Annoying, yes? Then Derick took the kids to a family party on Monday (I was working). I told Derick to convince the kids to at least stand by Santa...knowing that deep down Van wanted to. They again, wouldn't go near Santa. Derick managed to convince them to reach out and take their treat bag from him. (Nice work babe.) They went on a hay ride and did a nativity and ate lots of treats and played with lots of cousins, and on the way home Derick asked Van what his favourite part was, and he said, "getting kind of close to Santa." Lol!! That's the thing with Van, he's deathly afraid of pretty much everything, but he WANTS to be a part of stuff SO BADLY. I'm so happy he was proud of himself!!
Next I'm going to share the kids' decorations and the mitten countdown I made for them last year. It's so cute!!!