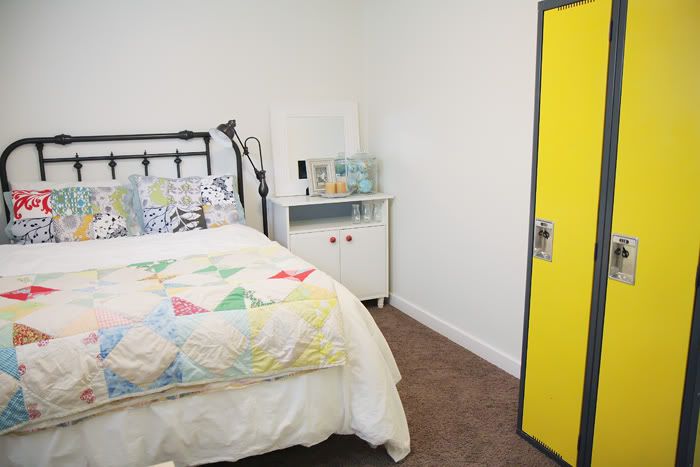 Okay, I need to get this room blogged, so I can get back to catching up on posting the shoots I've been doing this month! I'm still really excited about this room, because it is missing the fun part about design, which is all the little details. Actually it's all fun, but anyway, I'm excited to do something fun above the bed...probably something that takes up the whole wall...and it can be whatever I want, since it's a spare room! So it should be lots of fun for sure.
These lockers were salvaged from an old school....best deal I ever got I think! :) Derick taped off the gray parts and painted them yellow for me, and I SWOON over them every time I see them. There's holes all up and down them on the insides, perfect for adding shelves....perfect for storing so much stuff since this room doesn't have a closet. (We should have put one in, but didn't, and the lockers are prettier anyways!)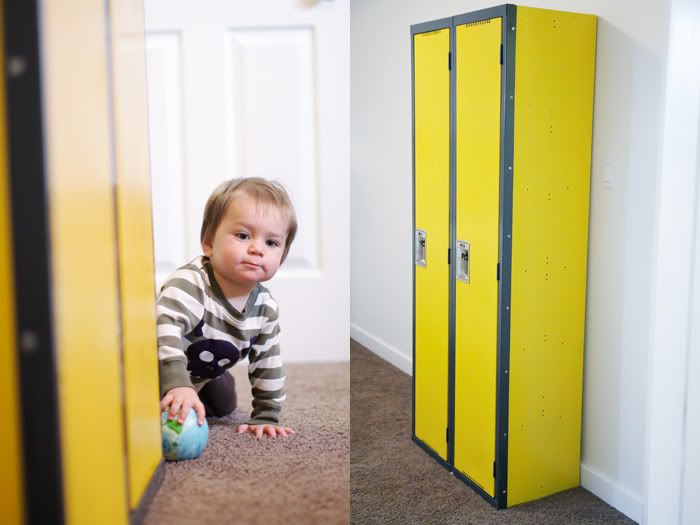 Behind Baker is the open door to the spare room...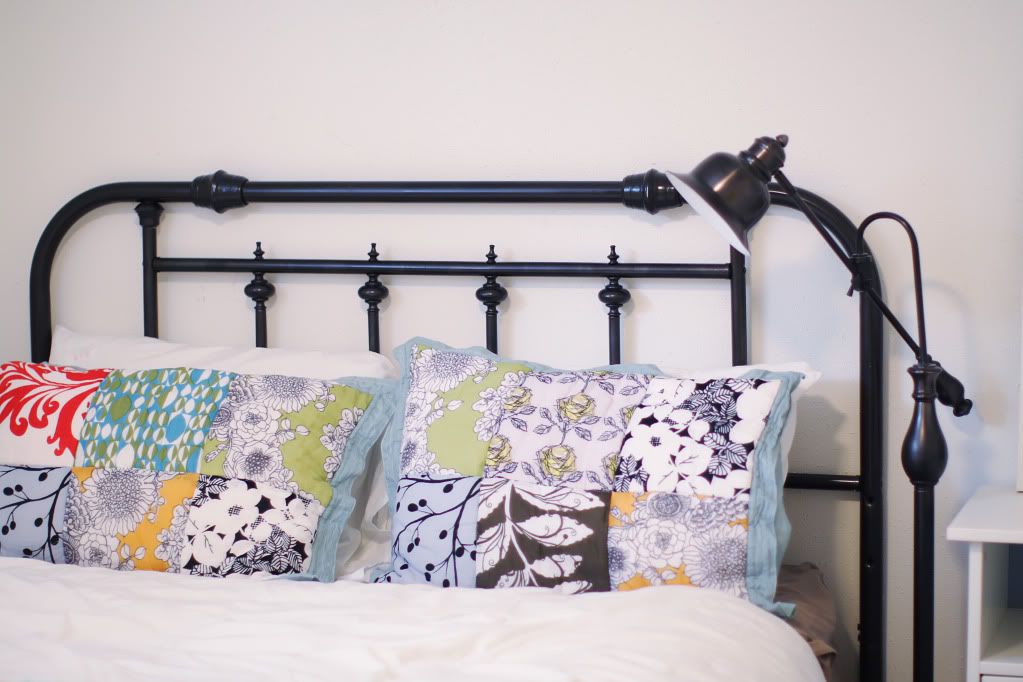 I moved this floor lamp down here when I bought the new yellow one for my living room...and it matches perfectly, and gives me lots of light when I veg on the bed while Derick studies....win/win. I still might paint it a bright color at some point...depends on what I end up doing on the wall behind it.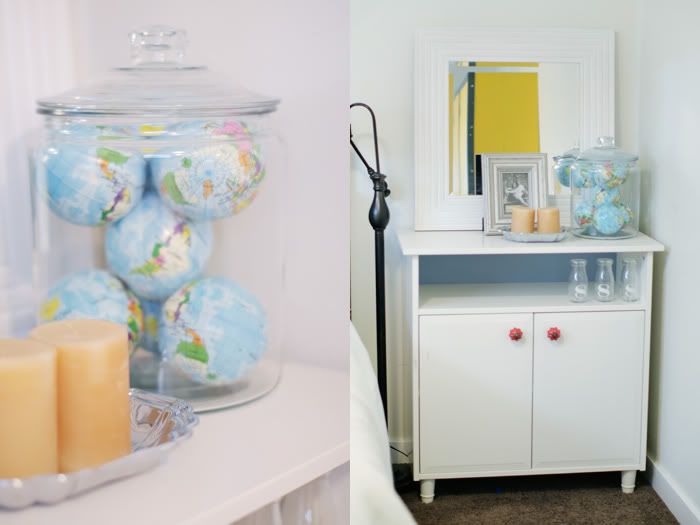 Everything on this cabinet is pretty random...I love that little metal tray from the Bargain Barn in Cardston though....those trays are everywhere in thrift stores right now. I wanted something fun to fill the big jar with, and found those cutest-ever globe bouncy balls at the dollar store. Baker loves them, I love them, another win/win.
Leah
scored the cabinet in the as-is section of Ikea for $30, best part about the as-is section is not the price, it's the fact that the stuff is PUT TOGETHER! :) Those bottles are from
Three Potato Four
. Love that place...prepare to spend lots of time on that site!! They even make a line of stuff for Urban Outfitters they're so awesome.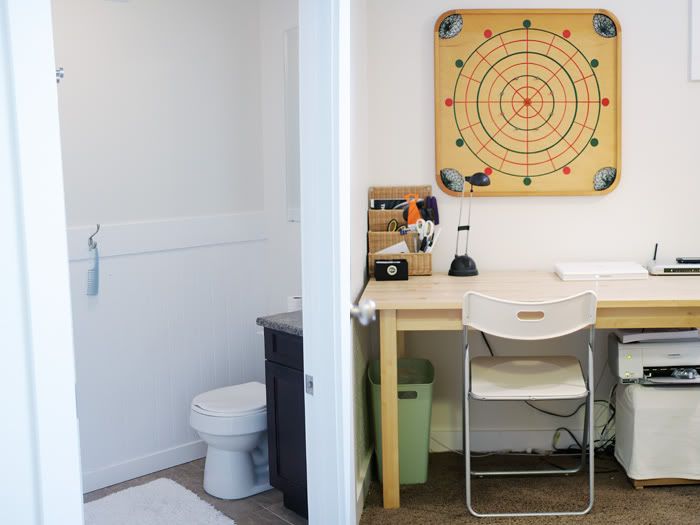 Nothing very pretty about this study space...I do love the vintage Krokinole board (that reminds me of my brother Boyd who passed away in 2007...another post for another day). I got it for $20 at a random antique sale. Everything else about the space is likely to change...since we're probably moving soon (sad but good...again, another post for another day!) I don't want to do anything too temporary, since Derick's going to be all grown up and graduated this Christmas (with his teaching degree), it's likely the next house will have a more permanent grown-up office area for him, so until now, I'll do some temporary fixes to make it cute, but nothing too permanent...there's a window next to the desk I have been wanting to hang curtains at forever...just haven't found the perfect ones.
I'm probably proudest that the bathroom is done! :) It's nothing fancy, but it's FINISHED! You know how it goes, you get the important stuff put in....the john, and you finish the shower, but then everything else just gets ignored for....four years. Derick did great framing a bench into the shower, and I'm so gload we put in the ONE border of glass tile to break up the rest of the plain tile...easy way to make it a bit different than the usual, but still very affordable. Shower curtain on sale from Anthro for $30...got to love that! I love how FULL it is.
You may be wondering why the bathroom is included in this "tour", and it's because the bathroom is an en suite. The basement was "supposed" to be framed backwards to what we did...so instead of one window in the living room, there's two, and instead of two tiny bedrooms, we have one small office, and one much bigger bedroom...and instead of one of those tiny bedrooms having a REALLY BIG closet, we have a living room with a scrapbook nook...MUCH more functional and useful if you ask me! And my office didn't need a window, (though I would have liked one), and so that meant the bathroom is an en suite, which I worried about at first, but in the end, it totally doesn't matter. If someone needs to use it, (like a guest) there's never anyone in the bedroom, so it's still totally accessible to them. I guess if you had a teenager down there sometimes you may have to quickly jaunt upstairs for the jaunt, but I'd probably just invade the teenager's space. :o)
This picture just shows the door to the bathroom...anyway, it took what seems like FOREVER to get the "bones" of this room done, so now that I'm there, I look forward to making it "pretty!" And oh yeah, it's Halloween!!! I last-minute decided to make my kids matching owl costumes. No, I don't sew. And no, I wasn't smart and didn't google anything or even look on Pinterest for inspiration first (cue gasp). But I think I managed well enough...and I can't wait to take pictures of them in them later today!! I just hope the kids don't hate wearing them. :)