Cue cuteness overload...in my oh-so-humble opinion. :)
I've been wanting to do this photoshoot since about October last year, so it's been pure torture to have to wait until it was nice enough again to do it...and until we could get the timing right to go to my parent's house.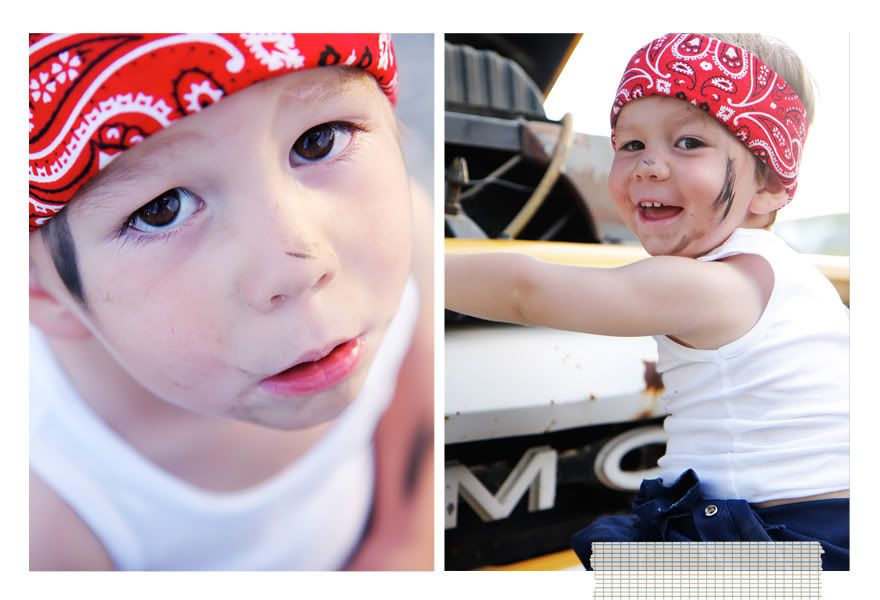 Whenever I get to dress the kids up or something like this, I just start to get really excited and it feels like Christmas morning!!
Baker didn't cooperate quite as well, but that's to be expected! My bro-in-law ordered these awesome cute little coveralls for the kids when they help Papa in his shop, and my kids ask to put them on almost the second they step into the shop.
Then they immediately look for a few tools to stuff in their pockets. I love it!! And I love how much they love following around their Papa.
So cute how Boston looks up at Van to see what he's doing. If Van is smiling, he'll usually give me a smile, but if Van is being grumpy, then Boston decides not to cooperate either usually. Bros got to stick together I guess.
It's been a loooong long weekend. I wouldn't be lying to say I'm glad it's over! And it's been a bit of a blogging break...yes, five days is a break. :) So I thought I'd come back with a bang and share this little photoshoot. Who says you can't dress up little boys as easily as little girls?? :)
Okay, weekend rundown.
Picked up quad/trailer at Derick's parents' house in Raymond Saturday morning.
Ran out of gas about seven minutes from Lethbridge, camper on truck, trailer in tow.
Derick quaded in the ditches to our house. Got the jerry can, the car, rescued us.
Home again, packing the final things to camp at Dutch Creek.
Dropped my iPhone and SHATTERED my screen to smitherines.
Finally left for camping, which was overall fine, but DUSTY dust city.
No surprise when I was ready to get home...I always leave Dutch Creek with that sentiment.
Dutch Creek is basically government-owned land where everyone camps for free and dirtbikes/quads/fishes.
Next day on our way to Babb, Montana (over an hour away) to pick up some packages we'd had mailed there.
A third-way there realized we had forgotten passports. Went back for them.
All the way there realized we had forgot money to pay the package lady.
Scrounged up $7 Canadian in change, she begrudgingly accepted.
Made it back safe and sound though, now Derick's back in school, and summer is officially over. Sad.
What a string of bad luck, eh? It could be worse though, and me and Derick just kept laughing everything off, so it wasn't all bad.