My basement is FINISHED! Hip hip hooray! We actually finished it only a few months after moving in four years ago, but then repainted it and REALLY finished it this past month. It originally was a super dark grey/green. Depressing.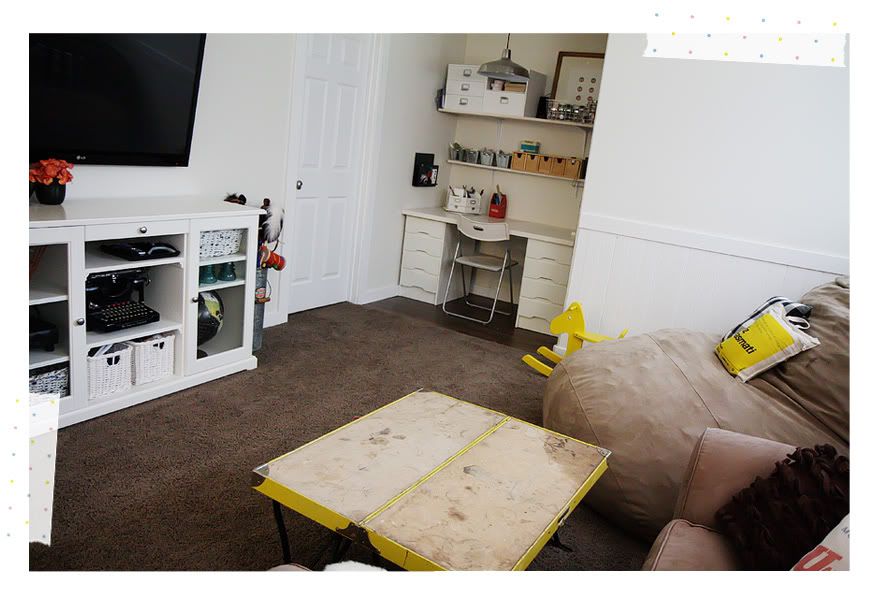 I LOVE my basement!! I think especially since I just finished it and because since it's downstairs, I felt like I could have a bit more fun with it. Okay, so tv stand is from Ikea. I haven't seen it there since though...not sure if they still sell it? Tall tin can is from
Station 8
. Where else? I was looking for something to store the kids' tall toys in, and when I saw it at first, wasn't sure if it was what I wanted. Went home, got really mad I didn't buy it, luckily my mother-in-law was there next week and picked it up for me!! YES!
The Cuddle Bag is the worst/best part of the room. So comfortable if I'm in the right mood and it's fluffed just right...the kids' favouritest thing ever to jump on, but the WORST piece of furniture to try and decorate around! Can it even be referred to as furniture? I'm going to say no. And not sure if you can see very well, but the yellowish bag on the cuddle bag is a rice bag I stuffed and made a pillow out of. So is the one on the right...looks like a small burlap bag or something. And the "U and I Sugar" bag was also stuffed by me and turned into a pillow. It was from an antique store. They suit the basement I think...but yes, we don't necessarily cuddle up to the rice bags...because, well, they smell like rice. Maybe I should wash them! I should have taken some closer-up pics of those.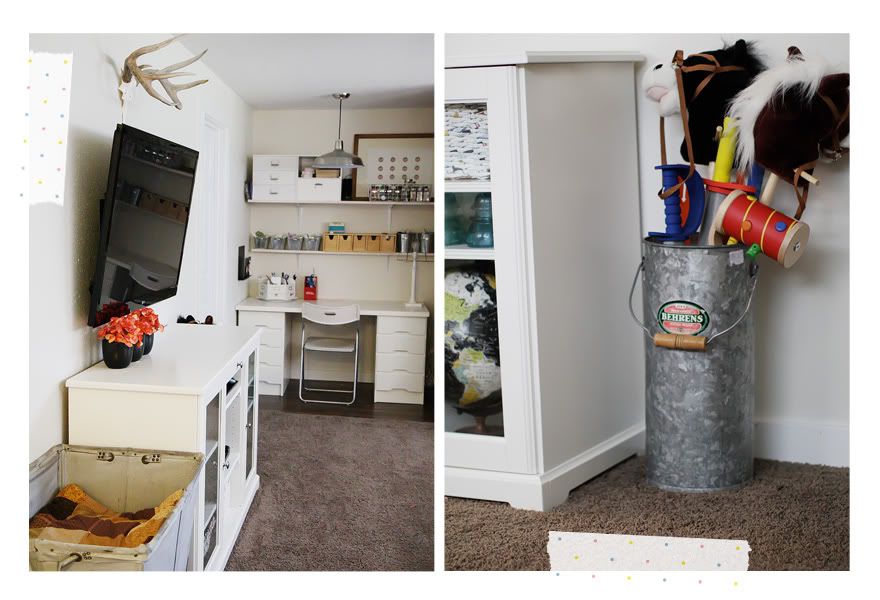 Laundry cart blogged about previously from The Barn in Great Falls. Antlers above the tv from my awesomest brother-in-law!! ( He's huge into hunting and thought it was so weird I was putting them above my tv in the same vicinity as an old typewriter. Lol!) :o) Pots/flowers from Michael's. I don't actually love those pots..I think I just need to change up the colors, paint the pots and stuff...they are there bc they hide the cords perfectly!
The coolest coffee table with the most personality ever seen in the world is from my awesome Aunt B. EVERYONE needs an Aunt B. She is the ultimate thrifter/antiquer, and she hooked me up with this table for $12!!!!! Actually, that's a lie, she swapped me...some of my stuff I was getting rid of for some of hers. You can't beat that! Wait until you see the yellow chair she also hooked me up with that's in my bedroom!! Typewriter from an antique store in Lethbridge (my mother-in-law gave it to me for Christmas...awesome, eh?) Globe from Ross. Lightning insulators were antiqued, magaziney-baskets from Urban Barn. Orange egg basket was antiqued. I've been looking for some antique croquet balls to fill it with, but them balls are expensive!
Yellow rocking dog (Derick says it's a dog...not a horse.) from a garage sale spray painted yellow. (It has ginormous drips all down the sides...I'm an awesome spray painter?).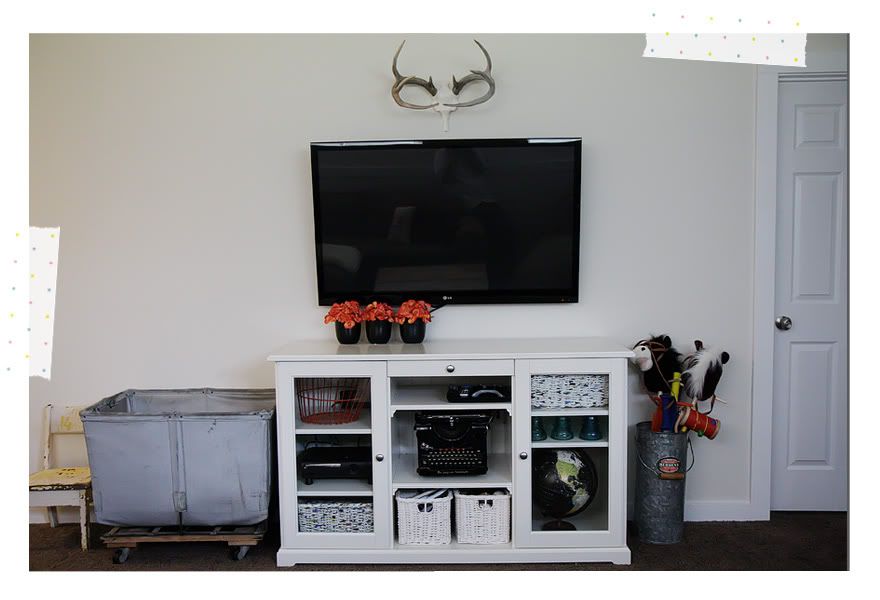 Little white chair from an old elementary school's library. Coolest map that I love was bought from a paper antique shop my Aunt B hooked me up with from BC. They emailed me a pic, and I bought it through PayPal and they mailed it to me. I should have asked the dimensions first...as it totally doesn't fit the space...a map of Canada probably would have been better....much wider and stuff, but this map is SO old and cool, that I don't mind. Maybe it will fit the next house just perfect! :) It was $40 plus $20 shipping. Not too bad I didn't think!
Chaise couch from
Gabe's
in Pittsburgh...it's Pottery Barn and the whole thing only cost $250. Cue moment of silence for not living by Gabe's anymore. Oh yeah, and that "coffee table" is a PICNIC table! It folds up like a bit metal suitcase....it's seriously awesome! I need to re-stain the top so it's more even and stuff, but I have like the whole rest of my life to do stuff like that. :)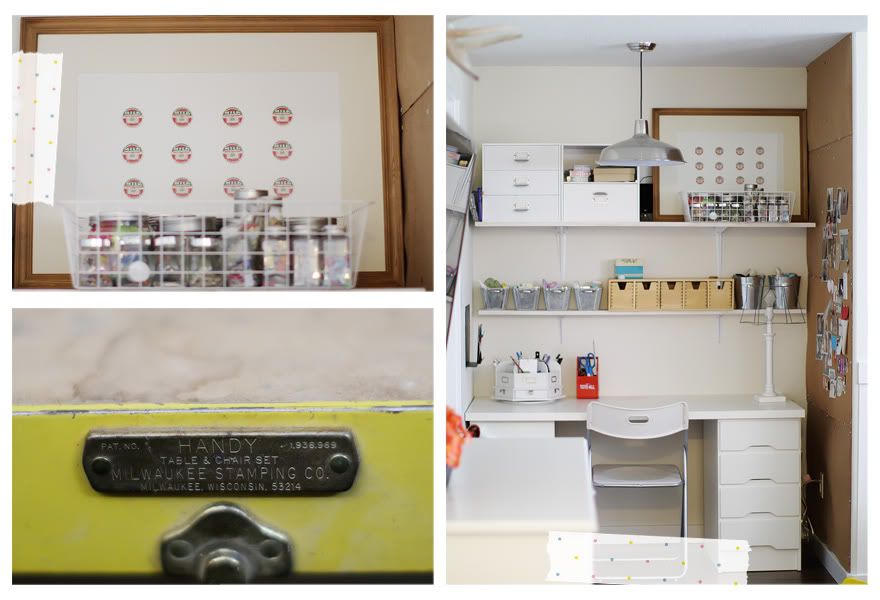 Ok, this is taking a long time! Lol. Scrapbook desk, chair, small wooden drawers and white wire basket from Ikea. Swivel pen holder and square box/drawer things on top shelf from Michael's. Red pen holder from 3 Potatoe 4. Metal buckets from the dollar store. Light pendant from Lowe's in the states (for only $30!). Frame with milk caps blogged about
here.
Cork board from Staples. It comes rolled up, and you have to be so careful putting it up, it tears easy!! And it still sort of curves out...so I just stuffed a bunch of pins all over it and it flattened out pretty good. I just pretty much pinned up everything I had stuffed in a little basket in my office...I think a more "prettier" mood board will take a lot more time and effort! I even have memorabilia up there that Derick saved from us dating in high school. (Yes, he saved stuff...not me...cue the "awww".) Including a movie ticket to "Double Jeopardy" which was one of the only "real" dates we went on...a ticket to Waterton Parks when a bunch of us camped there for the weekend...and, get this, the FLOWERS from my hair on our grad date are there in a little baggy. I didn't even know he'd saved them...didn't even remember taking them out that night! Ha ha....I'll let you guys decide if it's creepy or cute. :) Actually I'll decide for you. IT'S REALLY REALLY CUTE!!
Oh my, how did that turn into a trip down memory lane? I apologize!! That last little metal thing on the wall is from Target, and it's awesome. I use it to put whatever pictures are waiting to be scrapbooked...up off the desk, safe and sound from curious hands...and it's empty right now, which means I'm ALL CAUGHT UP. :)