Van's room!! I'm almost afraid to share it, even though I know I shouldn't be. I'm worried people will see how much room Van's room has, and how Boston could obviously easily fit in there. Though space in Van's room was never the reason we put
Boss in the laundry room
anyways.
Anyway, I love each of my little boys' rooms! They have been so fun to decorate, so anyone who thinks it's hard to decorate for boys...think again! :) Every time I go antiquing/shopping I come home and have to cram something else cool in there somewhere!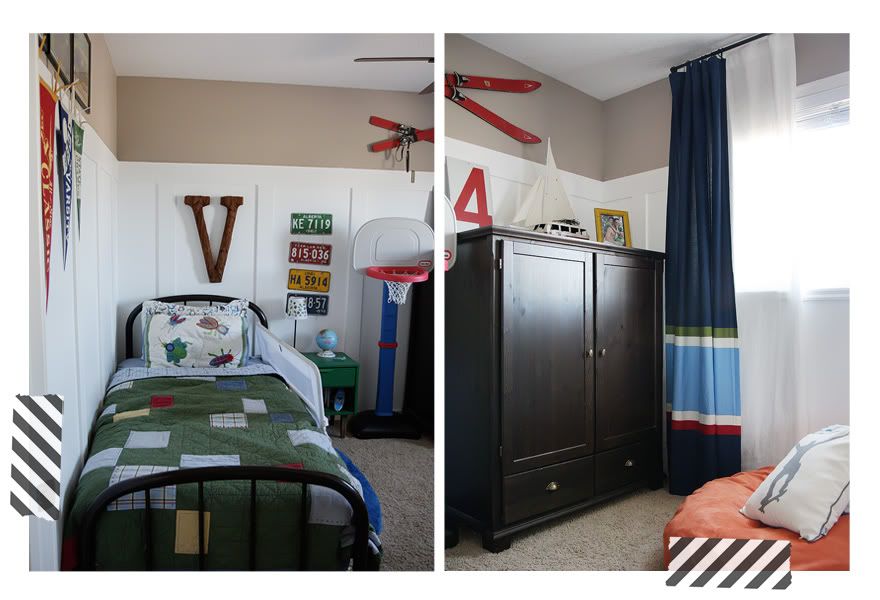 His bed is from the Red Deer, Alberta hospital over 50 years ago at least. My Grandma was a nurse there (she just passed away at almost 97 last week...what an awesome woman she was!!). She had two beds for her twins (my dad and his bro), and I have both beds, one for Van and the other waiting to be Boston's. And it was my bed in college. I think I'll paint them gray next! Skis from Station 8, curtains from Ikea and Target, license plates are antiqued and hung with twine strung through them, bedding on sale from Pottery Barn.
The nightstand was thrifted for $10 and spraypainted green. The globe was antiqued, and the rug is form the flea market in Hawaii. The little chair was thrifted and spraypainted, and the little thing hanging above it is "Van's boot holder" I antiqued last month and
blogged about here
. I made the map magnet board out of a $5 map of Alberta and some modge podge. The magnets are Melissa and Doug.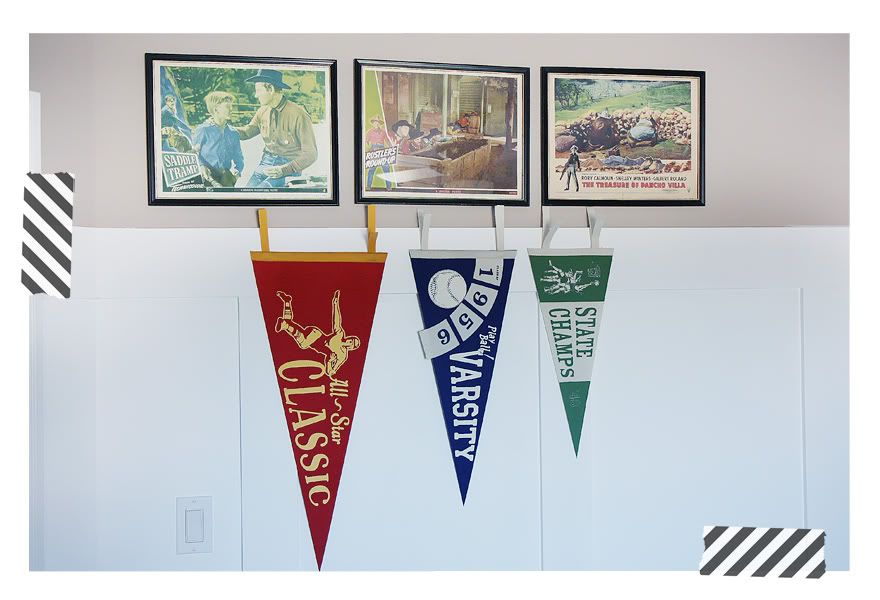 The above western pictures (LOVE THEM!!!) were antiqued and also blogged in the antiquing post I just linked. The pennants are from Land of Nod. Only $15!!
Looks like that little antique airplane is making the rounds in the boys' rooms. :) The orange cuddle bag was a gift from my sister and her husband (who are awesome). The kids love it. Van watches a movie on it every day during quiet time while the other kids nap, and he usually falls asleep there too and takes his own nap. Skateboarding pillow from Ross.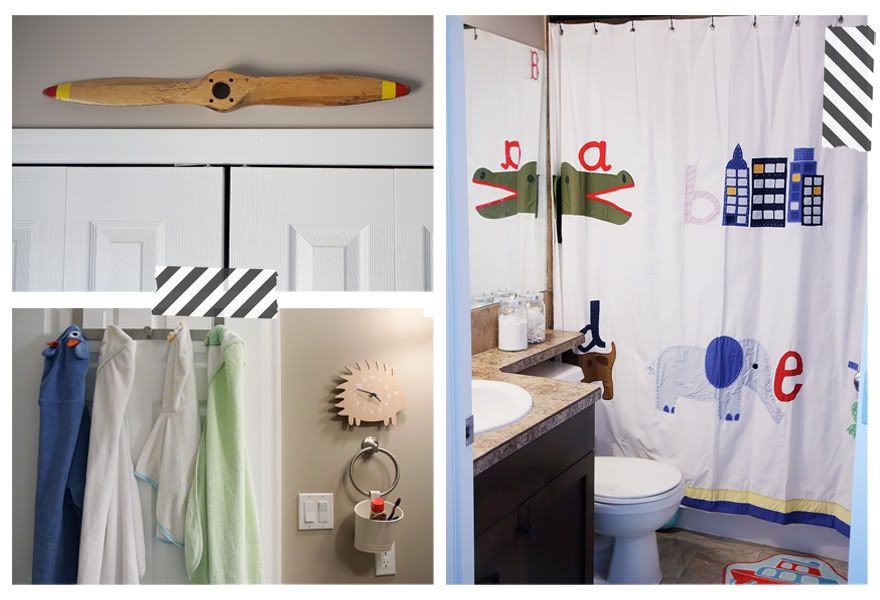 The boat rutter is one of my favourite things in the room....as if it were possible for me to pick. :) It's from Station 8. I decided to throw in a pic of the kids' bathroom too...the shower curtain is from PB, boat rug from Target, and the little hedgehog clock is from Superstore.
SO I know I was going to share my house before the end of summer...but I'm thinking it's going to be an Indian Summer, k? We're a bit behind on the projects, but things are coming and I'm SO excited at how close my basement is to being totally and completely done! Why is it that so many things get left unfinished down there?
Who knows. Maybe I'll still submit Van's room to Ohdeedoh. Just to mix it up! I don't like the fact that I'm "afraid" to...especially because I don't feel like I have anything to hide! But I also don't like encouraging anyone either....maybe they won't even put two and two together. I doubt anyone will remember Boston's brother's name was Van....and that we were from Lethbridge, Alberta....I am so paranoid! But then again, it's all right here on the blog too....lol! SO annoying!!