Today is my 10-year reunion that I've been planning for about 6 weeks now!! I'm super excited for it...I hope everyone has fun. I'm a bit nervous for that part! An old friend is helping me with the program part of it, so that's good...I shouldn't have to stand up in front of everyone much! Ha ha...I'll do a post about some of the different ideas we did when it's all over!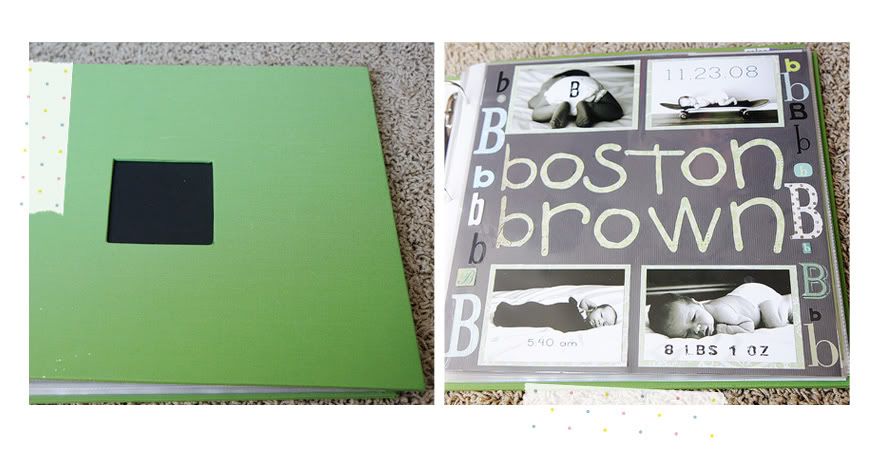 I wanted to post, but I only had these pictures in my blog folders, they are looking pretty measly! So Boston's baby book it is...I'm going to take a TON of pics next week of different things around the house...I'm excited! Oh, and I also promise to blog some Wasa pictures...since "everyone" (meaning my few sisters-in-law who follow this blog) enjoyed the KOA pics so much. :)
SO, Boss's book is green. I love his title page.....just threw a bunch of Bs down the sides, cut out his name with my cricut, and put the info from his birth right on each picture I used. Super easy and clean looking. Again, the above pages were done before he was born. Preparations that were made on the left (including names we were considering naming him), and maternity symptoms/ultrasound pics on the right.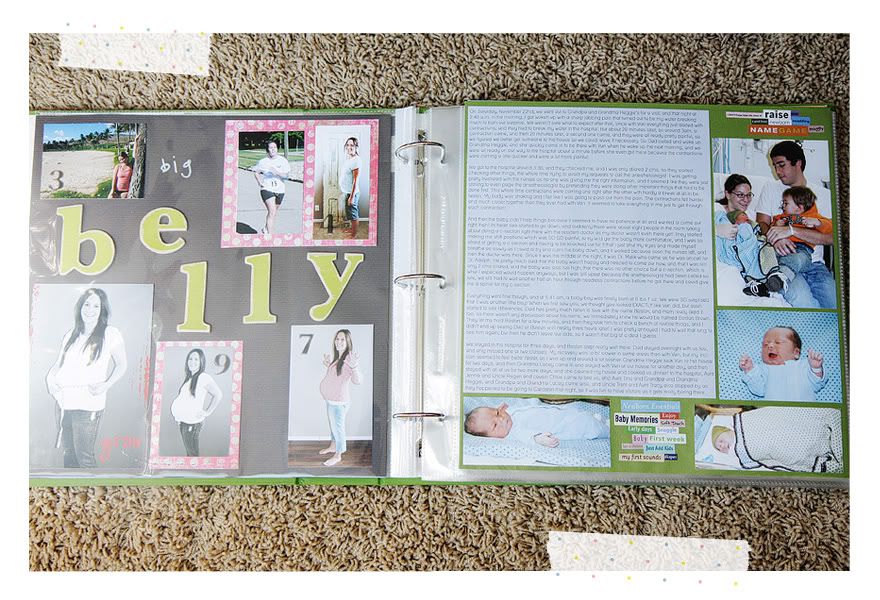 Belly pics that were also done beforehand on the left...I remember SCROUNGING to find belly pics of Boston. You can tell if you look closely...there are only three pictures of me actually posing for a blelly shot...the rest are pics I found where you could "see" my belly. Ha ha...and all the hospital info and pics on the right. Inside the hospital page are his bracelet, and also a paper I always keep with each baby marking down my contractions. (Even though I've had three c-sections, the first two I still totally did labor).
Months 1 and 2.
Blessing page on the left and month 3 on the right. I try my hardest to remember as much as I can from the blessing, and usually jot down notes right after it is over.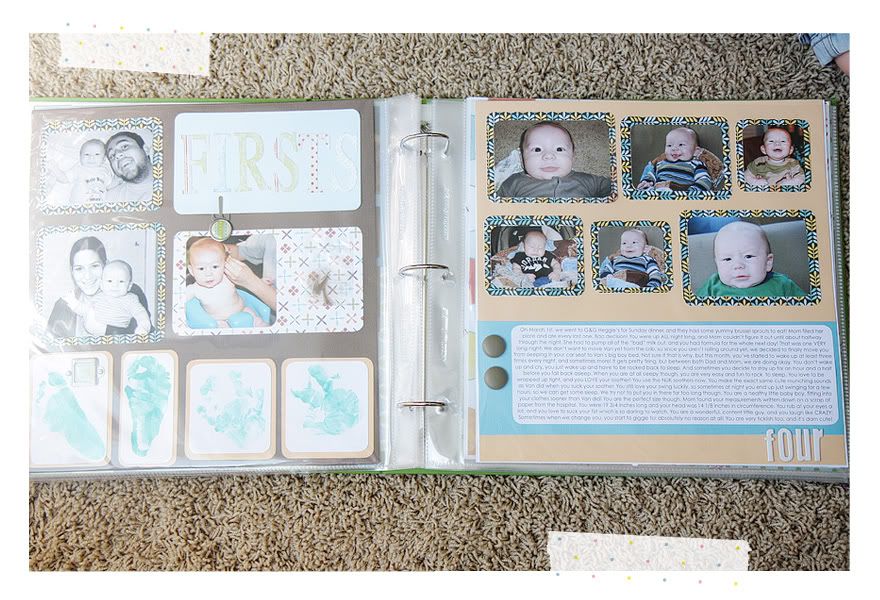 "Firsts" on the left, and month 4 on th eright.
Month 5 on the left, month 6 on the right.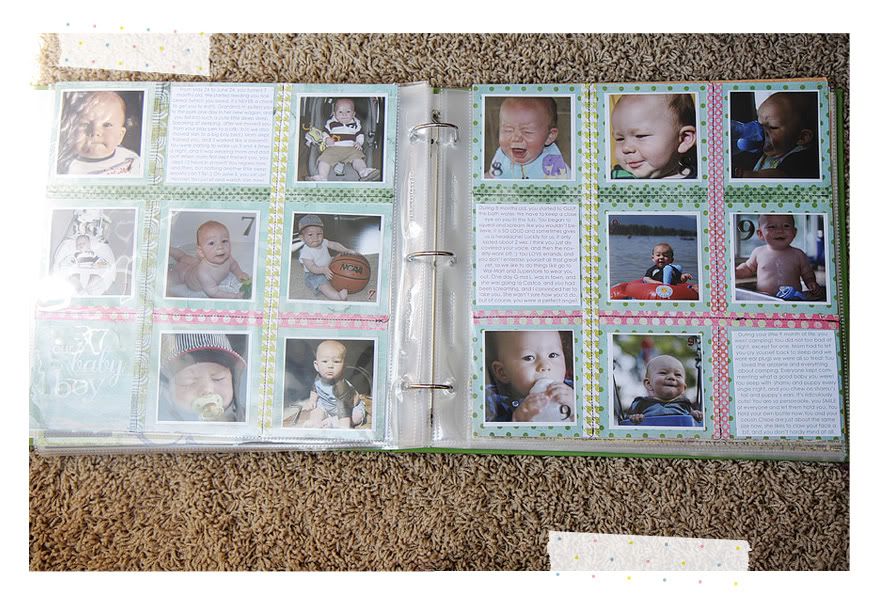 Month 7 on the left, and month 8 on the right. This is one of my favourite layouts I've done since it was so so easy...just strips of paper dividing the pages up, with journaling squares in some of them, and pictures in the rest. In fact, I've used this layout on Jolene's scrapbooks a couple of times too. Yes, I scrapbook Jolene's four kids' baby books. FOR REAL, I do...I'm the best sister in the world, eh? Actually, Jolene's the wicked sister, not me. I'll explain the "process" of me doing hers some time in the fall probably...and I'll include some of my favourite layouts from her books...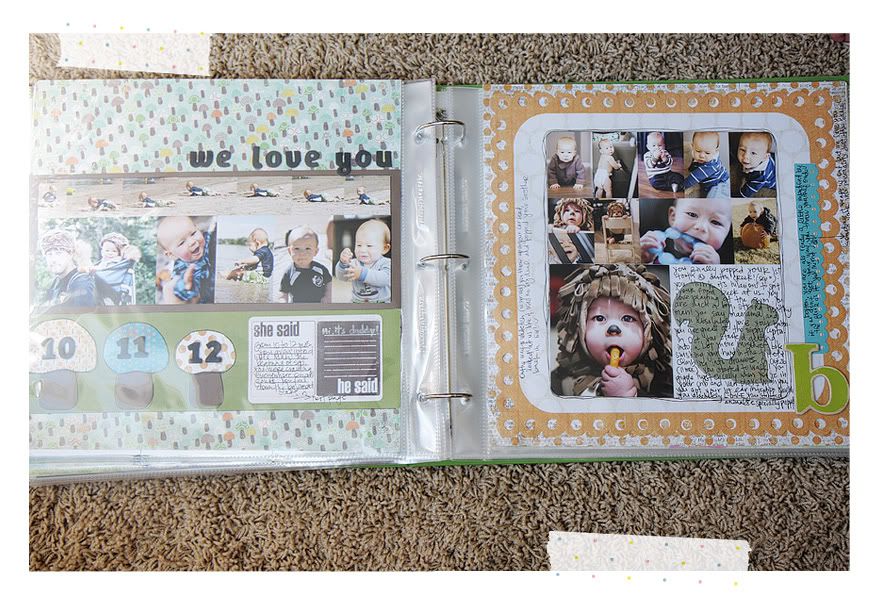 These two pages are all months 10, 11 and 12. Some journaling on the left, and some on the right. I actually thought of the idea (along with many other moms, I am sure!) to have Derick write on his page, so he wrote under the "He Said" section, and it was super cute. I have started to do it a lot more, and I thought I was super smart, and then Ali Edwards posted a week or so later about how SHE was starting to have her husband journal on her pages too. Dang you Ali Edwards! Ha ha....
If you noticed, I only include one or two pics from Halloween and Christmas and birthdays and stuff like that. I took a BILLION, but they are in the family album. I keep their books about them and the smaller events in their life. Mischief they got into, my favourite expressions they make, things they have learned, my favourite outfits I dress them in...stuff like that! That's the stuff that matters I think! Not the 50 pictures from their birthday I took. (And they can find those 50 pics in the family album if they want!).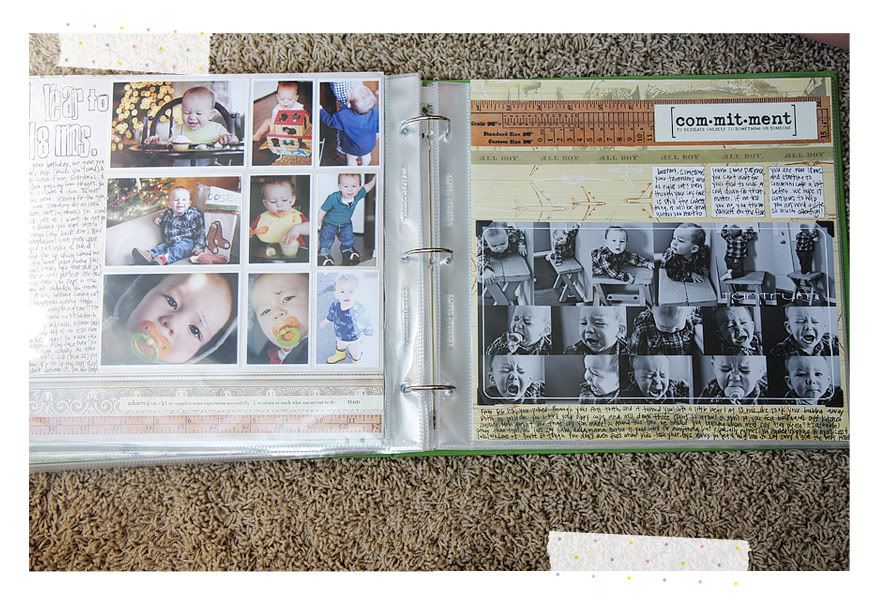 12 to 18 months.
I also don't include a TON of pics of other people. Their books are ALL ABOUT them. I may include a small pic of one of their good friends or something like that...and the odd grandparent pic, or pic with mom or dad...and the odd sibling picture....but really, that is very, very rare. Their book is about them and the things they do....I know lots of people disagree with this! And that's okay. :) I still talk about how they love to play with their brothers and all the mischief they get into together, of course....but it's just so hard to fit EVERYTHING in there, and again, there's a BILLION pics of them with their family, friends and siblings in the family album.
It sounds cheesy, but I just think one day when they have their books from me, I want them to be able to open them up and see NOTHING but a book about them, and how much I cared about every little thing THEY did. I know siblings are so so important, and that's why I journal about their relationship with them, but their pics just aren't all over their books. I am rambling, I know....I'm still having an internal battle about this whole decision...if you couldn't tell! Ha ha...I scrap layouts of them together in the family books all the time, so it's all good though! :)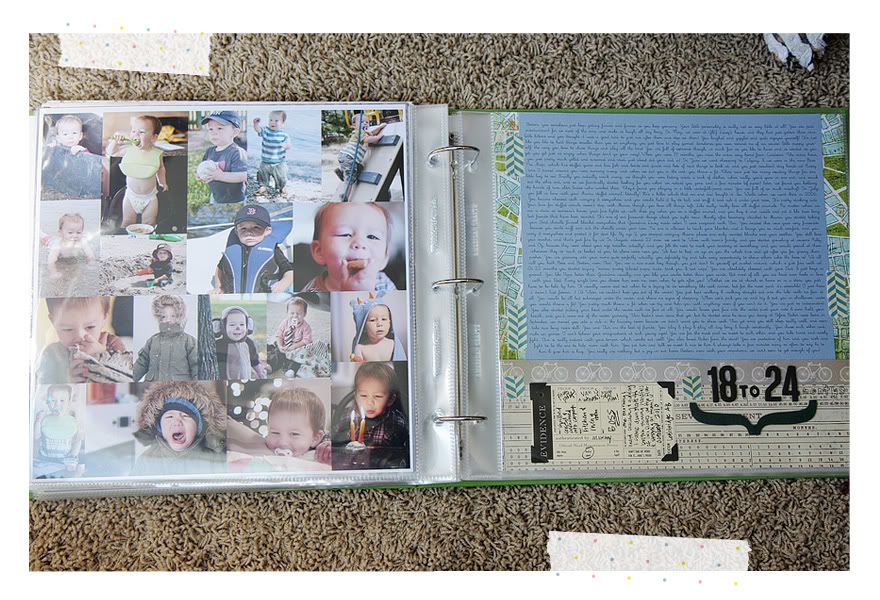 These two pages are 18 to 24 months. So right now there's a folder on my computer marked Boston, and a subfolder marked 2 to 3 years old. And in it are pics from over the last year that I've thought would be good for his book. When he turns 3 in November, I'll go arrange them on a page in Photoshop, and then print it off, pull out my little journal with all the notes I've made about him over the last year, and put together his 2 to 3 page.
That was a lot of talking. I apologize. I literally could talk your ear off about scrapbooking. I mean, who thinks so much about this stuff? Me, I do. I'm a huge nerd. Anyways, hopefully someone enjoyed it! Now I'm off to party like it's 2001 and probably change my outfit 10,000 times before I do! Ha ha...