Would anyone be surprised to hear that this shelf is one of my favourite things ever? Okay, so apparently I love things in my house just like I love my kids...I always say that one is my favourite, but really, I love them all equally!!!
Derick built me this shelf from mdf for my birthday two years ago. Yeah, I'm that girl who calls in favours for her birthday. You could learn a thing or two from me. :) I had been wanting a shelf like this for the longest time, and I had these baskets for Ikea, so I had him build it around them so things would fit perfectly and we could fit bills, keys, sunglasses, receipts, coupons..all that good stuff in there.
I don't really know HOW he made it. If anyone really wants details, I can ask him to give me a more detailed explanation! :) I mixed some leftover paint for the color. (Van's first baby room in Pittsburgh was brown and a deep turquoise...I miss it!). Then I just sanded parts, and rubbed a poly/stain mix on it. It matches the other little blue table perfectly. And since it's hard to see, I'll list what's in the jars. Left to right is elastics, changes, paperclips, game pieces (like the ones you'd play Sorry with...found them at the dollar store), marbles and dominoes. Birds from PB and Home hardware, soap dish was my Grandpa's, and the one-hole antique hole punch was a gift from my thoughtful mother-in-law! The things in these squares change now and then...aren't the opportunities endless of what you could fill those little squares with!!!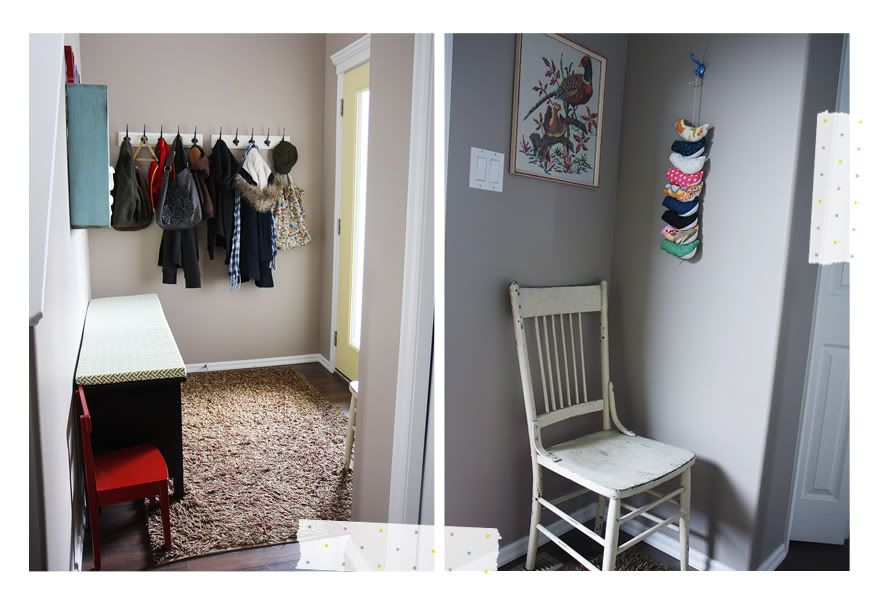 The hooks, bench, rug and chair are all from Ikea. I love having so many hooks in the back entrance area! The cover on the bench was sewn by
Ducan
for me. It was a bit pricy...$60. I thought it would be more like $40, but I guess that's what happens when you don't make sure you get the quote first! The material is from Jo-Ann's. It was $7. :) Old chair was antiqued from The Barn in Great Falls and the flower cross-stitch is from Salvation Army. And I love it. :) Not sure where all the birds came from...I'm not even that crazy about birds! Ha ha...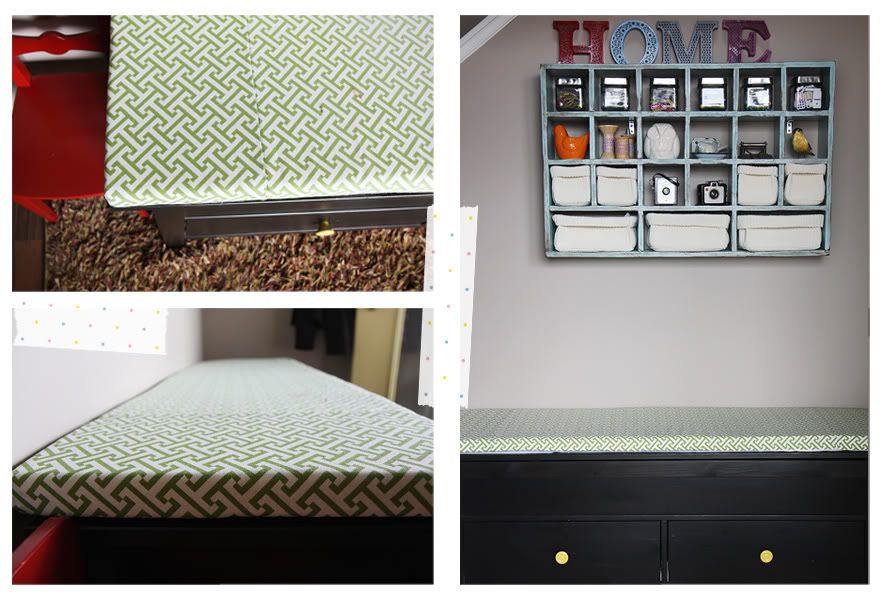 "HOME" letters are from Urban Outfitters. So is the orange bird and the white owl. For the longest time the "E" in home was backordered. For about a year it spelt. "HOM". It was frustrating! :) But what a happy day when Sam (my sis-in-law) noticed that the Es were back in stock!! (Apparently they were never going to make them "ever" again). The spools are from PB, and the jars are from the dollar store. Total fluke that they fit so well! Old camera from Station 8 and an
awesome antique store
in Stavely that's actually owned by my first cousins. (A love of antiques DEFINITELY runs in my family).I love that they've actually followed the dream and started a store on their own.
I digress.
Yellow knobs from Hobby Lobby from Utah (thanks Leah from bringing them back for me!) I've never had the privilege of stepping foot in a Hobby Lobby personally. Hook from UO, and the birds I made and stuffed myself! They each have a marble in their butts so they hang right. I made them right before Baker was born...
here's the tut
. I saw some birds strung like that on
Tara Whitney's blog
and so I made my own. (After I found out I couldn't buy them anymore). Btw, Tara is my second-favourite photographer...and I am in love with her house too.
We were supposed to put beadboard halfway up the two walls here too, but Derick's broken wrist derailed those plans. Oh well!