This is one of my favourite before and afters of my whole house since I've been wanting to change that pantry door since the day we moved in! The picture on it just was never my thing, but the worst part was the blasted fingerprints that were constantly there!! And it didn't matter how much I scrubbed it, eventually it was mugged past the point of no return. I had been wanting to work chalkboard paint somewhere into my house, and had thought about lots of different options of things I could do to the door, until one day it clicked that painting the pantry door would solve both dilemmas! I'm not sure you're really supposed to paint glass, but I did!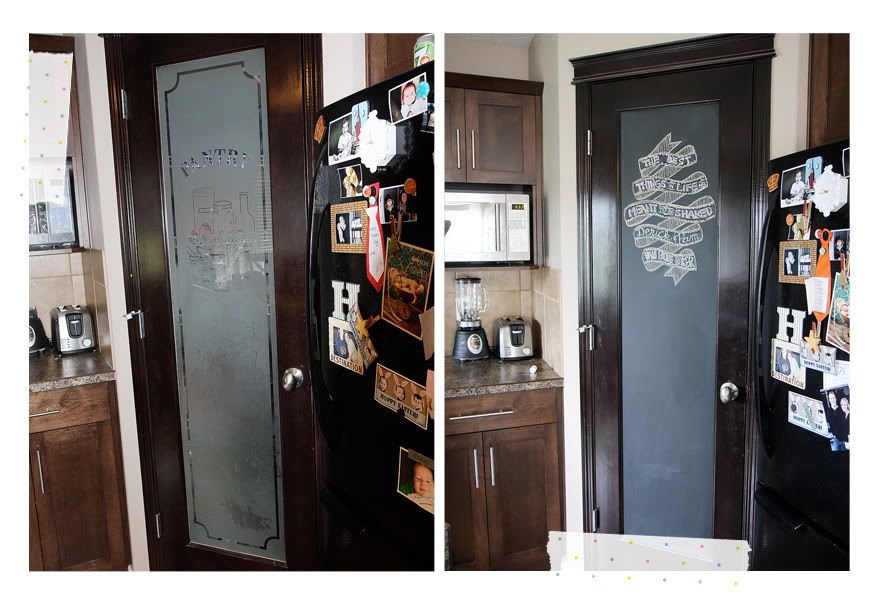 It seems like if you were to TRY and scratch it off, that you probably could, but so far, my kids have shown zero interest in it....and fingerprints just sort of blend in with the whole wiped-chalkboard look, so it's a win/win! If only I could figure out a way to disguise the fingerprints all over the door handle area...besides actually cleaning them off myself, of course. I painted the inside of the door too, and we use it for a running list of things we are currently trying to get done!
I had been wanting to do some sort of fun chalkboard art on it, and I got this idea from
here
. I almost don't want to include the link in the post because it shows how CRAPPY mine looks! Lol! Keep in mind, I did it with sidewalk chalk! Ha ha. Derick has since purchased smaller white chalk and a proper brush, so one day when I feel like it, I'm going to erase it and start over. I know I can do better! :) But it will do just fine until then. I love it!
And I also thought I'd include a picture of my new yellow lamp I got from UO and put in my living room. It's kind of an odd angle for a pic, but doesn't it have so much personality?? I tried my hardest not to buy it when they first came out with it...and that lasted about a week! Anyone want to buy
my old one
? Ha ha.
Oh, and by the way, Kalispell was great! Antiquing was good...only found stuff at Station 8 of course. And I think I jinxed myself with posting Van's room, because now I have even more awesome stuff to cram in there...