My internet is baaaack!! I tell you, the forces have been against me blogging this week! I finally have both my computer and internet working again...gave Lappy a good cleaning out and got a new modem from Telus. I am trying to delay having to buy a new computer as long as possible...but I think the time is closer than I think. :( Is it weird that I'm paranoid and now I think Lappy is for sure going to revolt against me because I mentioned replacing it on the world wide web? Yes?
Okay, so the below pictures are borderline terrrrrrible! Lol! One day I'll figure out a better set-up for photographing my scrapbooking, but I wasn't about to take every single page out of its page protector...I took these pictures with all three kids in the same room building a fort out of our couch cushions! :)
So, I sort of get reeeeally excited when I talk about my scrapbooking. I can't help it, I've come up with a system for our family that I love, so I will talk to ANYONE who will listen about it! Lol! I'll do my BEST to keep it brief. Here's Van's baby book. I've got the basic breakdown of how I do their books written above/below the pictures, I'll expand a little bit where I see fit! I'll do another post in a few weeks listing all my favourite resources for all-things scrapbooking!
Each kid has a different-colored book. When one fills up, I'll buy the same-colored book. Our family photo storage is in the same books, but brown. Hopefully I have a girl soon or else there's prob gonna' be a little boy in our family at some point with a pink book! Lol! (Kidding...that would just be mean!)
Page 1: This is where I put their "photoshoot" pictures, with their name, and birth info.
Page 2: I took some ideas for info to include from another (cheesier) baby book. This page includes everything we did to prepare for the baby.
Page 3: Ultrasound pictures. (Isn't that 3D one of Van so creepy? Lol!) And all of my maternity info/symptoms. And please excuse the equally-creepy bare belly shot of me too!
Pages 2 and 3 are always scrapbooked when I'm about 39 weeks along. That way, I don't feel so far behind when the baby gets here! I just use gender-neutral colors.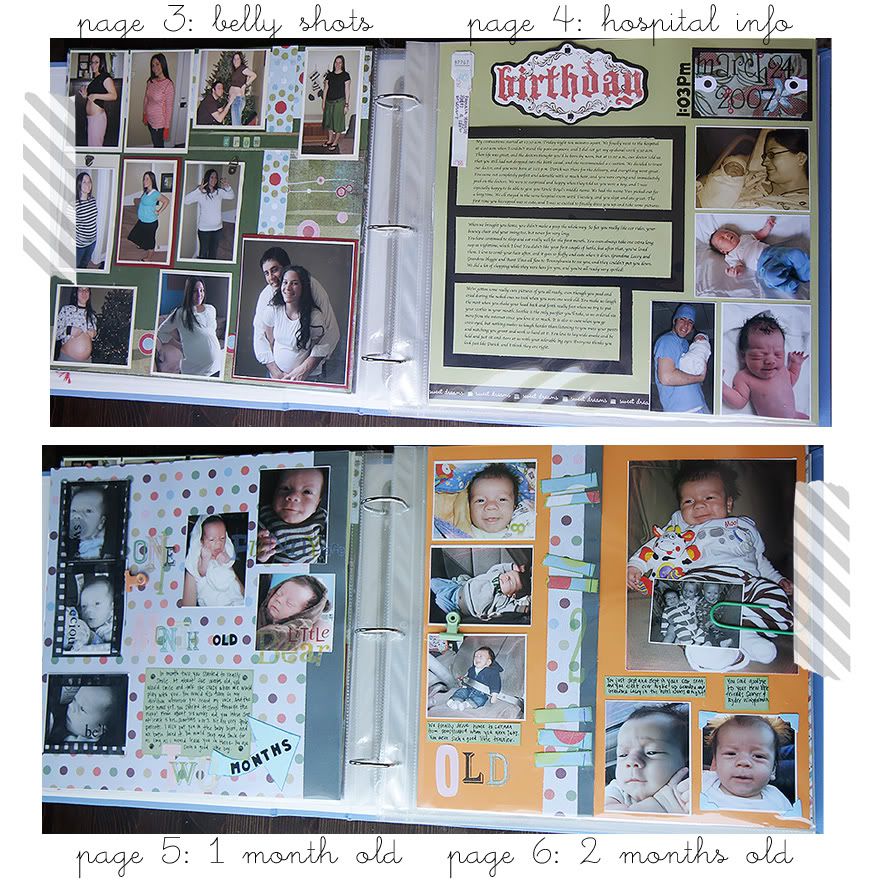 Page 3: The progression of my fatness. This page is also done before baby comes.
Page 4: All the lovely details of the hospital and actual birth.
After these page are done, I start doing one page per month for the first year of the baby. Some months get combined, but it's pretty much one page per month until 12 months old.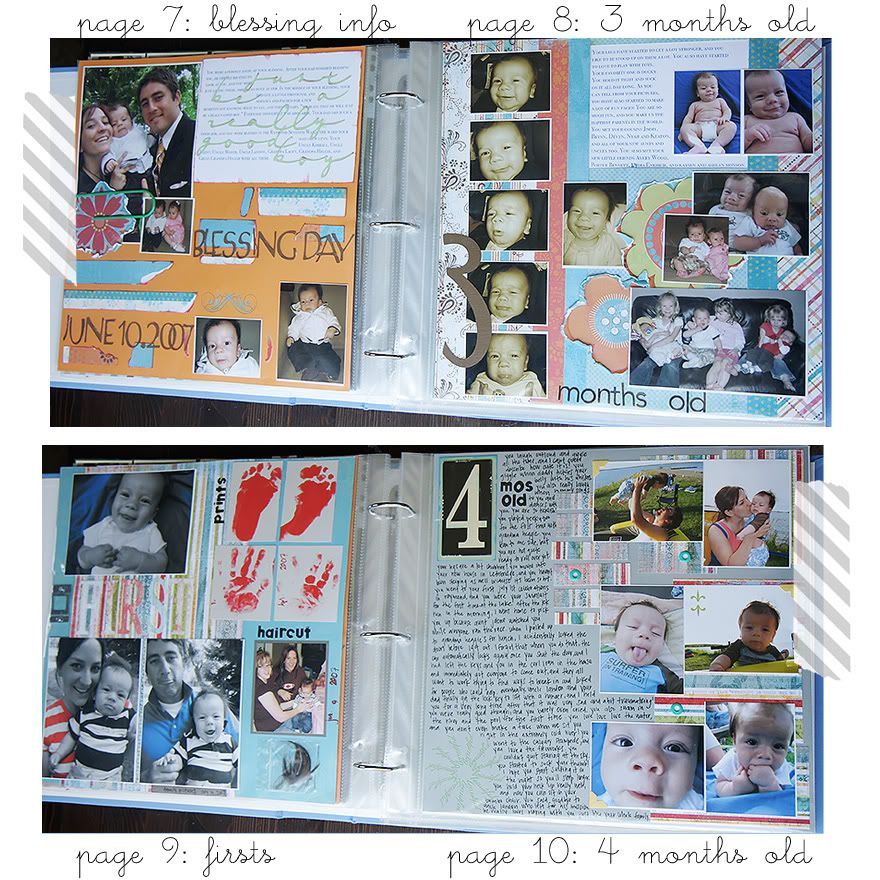 In between the monthly pages, I always slip in a page about their blessing day, and a page with their first footprints, handprints, and haircut on it.
Page 11 just makes me laugh. That's an actually overhead that I printed words onto, and then placed over top of that pictures of Van. (It's supposed to look like a magazine cover...duh.) This was before the days of photoshop of course! Remember, I started Van's book nearly five years ago! I realize a ton of these pages aren't even cute enough to worth sharing...seriously...if only I could redo everything I didn't like later! :) I'm just sharing my process more than anything. Baker's book is much cuter! :)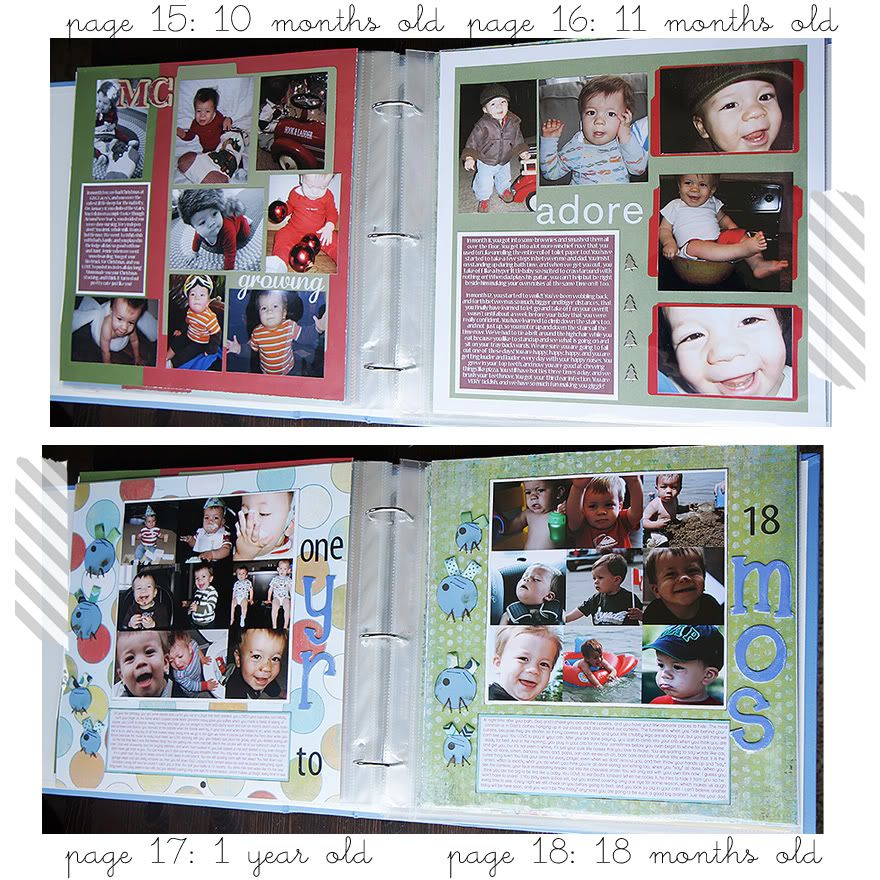 Between 12 months and 2 years old, I do two 2-page spreads. The first spread covers 12 to 18 months old, the second spread is 18 months to 2 years old. I slow it down because babies aren't changing as much at that age, and it's more practical. I keep a notebook where I am constantly jotting down things about the kids so when it comes time to update their books, I don't have to think about what to journal about.
Then when they hit age 2, I do a two-age spread for every year. I still include a lot of bits of info about each kid in the main family's photobooks, but their most memorable things go in their own books. A two-page spread is sooo doable, I can even keep up with it when there's new babies around whose books demand more of my time. I also forgot to mention I slip a lot of important papers in between their pages. Like their baby blessing certificate, cute pictures from church, that sort of thing.
Page 22 is missing some pictures of Van in front of his cake at the bottom...I keep forgetting to put them in! I have files on my computer marked for each kid, and every time I load pictures onto my computer, I pick out which ones I'd like in their books, and move them over to the respective folder. So when it's time do a page in their books, I don't spend forever picking their pictures.
It's funny, every now and then I panic thinking, am I scrapbooking enough?? Is a two-page spread enough for one year? But then I think, my mom did NOTHING! Lol! And I somehow survived. In an ideal world, I'd write down every cute little thing they do, and fill books and books, but that's not going to happen, and isn't realistic, and would leave me feeling defeated, because I would never be caught up!! This system is so easy to manage, I actually enjoy doing it because I'm always so on top of it!! Anyway, I hope someone enjoyed it! Boston's and Baker's books are still yet to come, and I'll talk a little bit more about how I decide what to include/not include in their books. (This problem literally USED to keep me up at night!)
Now it's off to street wheeler's weekend for some fast and loud cars hopefully...I might as well get used to all-things-boys in this house, eh?