Okay, so these pictures aren't terribly exciting...I mean, it's a bathroom and a mini little hallway! But they sure excite me! :) It's funny how even small spaces like these can totally stress me out. Funny or just stupid...one of the two.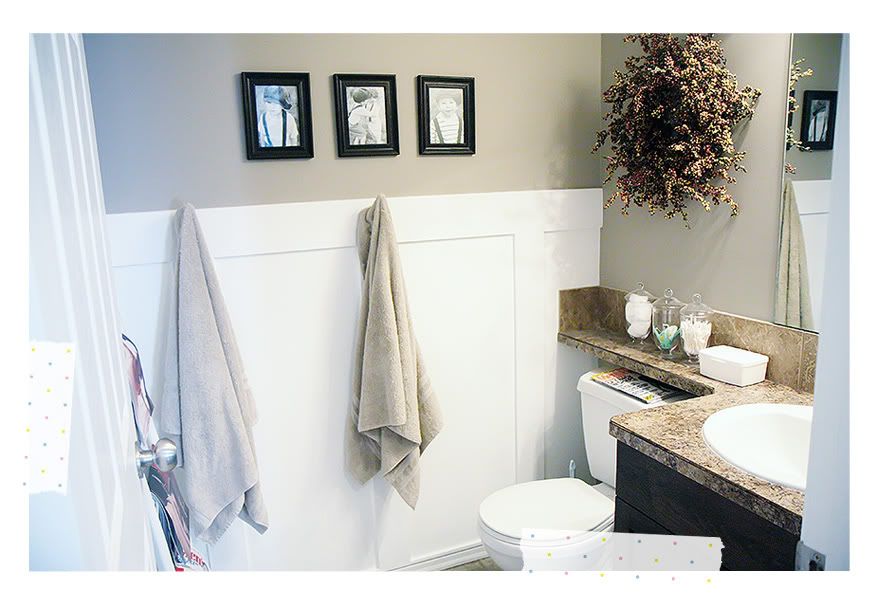 This is our main floor bathroom. We added mdf to the wall and painted it all about two years ago. We had to add a tiny long piece of mdf on top of the existing floor trim so that the planks didn't hang over the trim. It turned out good I thought!
Ladder from Urban Barn. It's great because we are bathroom magazine junkies in this house! Love those pictures of the boys in their hats and suspenders...will be some of my favourite for forever!! Little white stool from Target. Little glass jars were only $3 each at Ross or the other one....what's it called?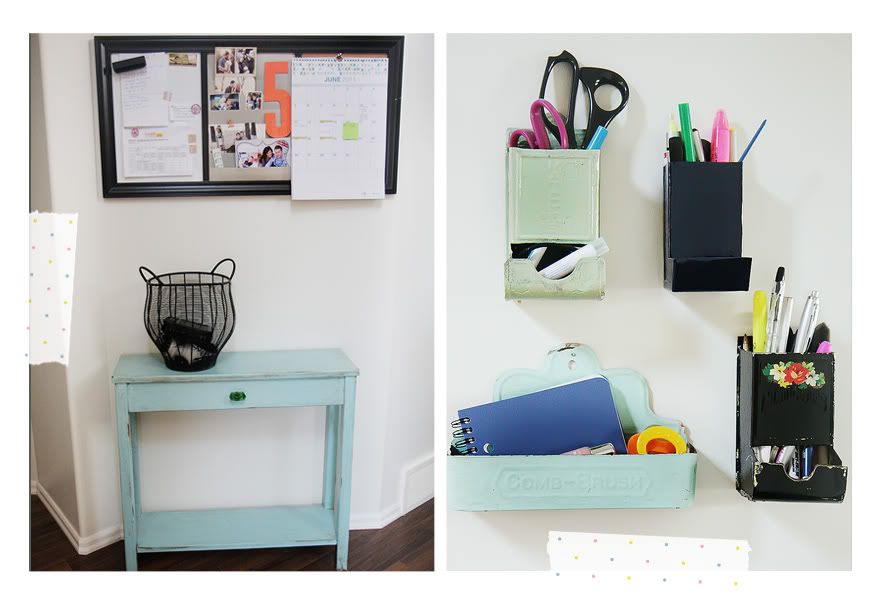 Derick built me that little blue table out of mdf. I mixed up some leftover paint I had, painted it, sanded it in places, then rubbed a stain/poly mix on it. Handle from an antique store in Great Falls. Bulletin board from Costco! I am not in love with that wire basket there, but it's funcitional! The matchboxes are all collected from antique stores, and one was my Grandpa Bennett's. My fav of course! Got the idea to put them on the wall from Ali Edwards' blog. I should have taken a wider shot of how they look in the hallway...next time when I take the rest of the back entrance pics!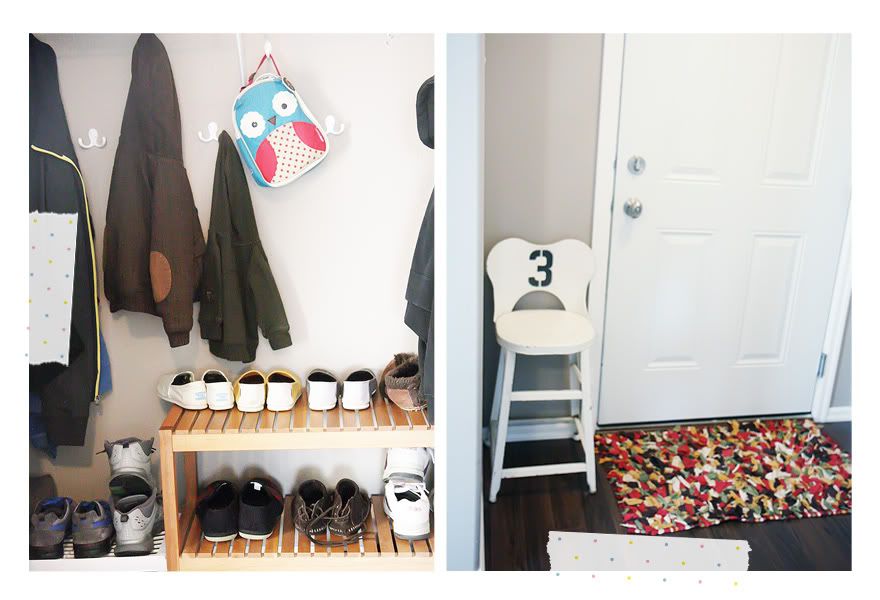 Got the 3 stool from Station 8 and the rug from Pier 1. The pic on the left is nothing special, just a coat closet. But I wanted to show how we just hung hooks in the whole thing and put a little bench in it. It's one of the best things I've done in this whole house! We actually hang coats up in it now, and I sit on that bench all the time! The kids can reach the lower hooks too...we have a bank of hooks by the back door too. You can never have too many hooks for coats! And I especially love that these are hidden!
I hope your weekend's going well! I'm a little sunburnt, but that's a good thing in my books! I'm getting excited to make a trip to Great Falls soon...can't wait for my Target/antiquing fix! I'm going to do a post soon about some of my favourite places to antique. I get asked that question a lot, so might as well share it with all, right?