Here's a few details shots from my living room. It seemed like too many pictures to put everything into one post! I don't know why...it's not like it's a bad thing to have a post with a lot of pictures! I'm just weird.
Speaking of weird, so is lots of stuff about my house, and I'm okay with that. Just thought I'd mention that! Lol. I know my "style" (not sure what my style is) isn't for everyone...I don't post pictures of my house because I think ANY of it is must-see by anyone, but just because it's fun. I just get paranoid sometimes...you know how it is, wondering what people think of you when you post certain pictures and say certain things! Hoping it's all coming off right and stuff.
Anyways, moving on...I got these deer sheds given to me by my most generous bro-in-law, and I was in heaven. Of all the things I bought in Calgary that weekend shopping, these were my favourite things I got to take home!! The books below were all bought for 25 cents each at the Bargain Barn in Cardston, AB. There's always gems there to be found, and I just love all the vintage faded colors together. I just barely got the letter press letter Hs in the mail from
Three Potatoe Four
(3P4). I am IN LOVE with and addicted to their site. Click over, and it will take you about two seconds to see why. I dealt with Stu quite a bit actually b/c there were problems with my package, and he was AWESOME to deal with. Seriously, don't ya'll just love buying stuff like ten time mores when you know it's from nice people??? And aren't all those different letter Hs the neatest???
Bowling pin from Station 8, Ferris Wheel on sale from Pottery Barn, big number 5 ordered from eBay, small number 5 from 3P4, 1/2 peck container from an antique store on the main street of Whitefish, MT. The number 5s are because there's five of us in our family. Hopefully we make it to five kids at least, and eventually the 5s will end up in his/her (probably his, who am I kidding?) room. :o)
Deer shed from bro-in-law, vase from Ross or one of those, blue holey thing (nice description, eh?) from Winners, and fan from antique store on main street of Great Falls.
I'm seriously in love with these Hs. And all different fonts of letter and numbers in general! :)
Middle locker bin salvaged from an old school, two outside bins from antique store from main street of Columbia Falls, MT. Behind the bins I keep extra diapers, wet wipes, and diaper cream...still handy, but out of the way! :) Saves my lazy bum a few extra trips upstairs.
I can't remember the pattern of this fabric, but I order most of my fabric from
quilthome.com
It's lots cheaper, a big variety, and you can easily compare what different fabrics look like beside each other. Plus, they always include a hand written thank you on your receipt. I like that. :) I got this cushion made/covered by the nice folks at
Ducan
here in Lethbridge. (The seam looks crooked, but I just needed to straighten it...they did a great job!) I think the whole thing cost about $40 or so. Pretty reasonable, eh? They added velcro to the bottom, and gave me velcro that we stapled onto the lid of our chest, so that's how it stays, and it's also removable for washing. I covered that "handle" (drawer pull) with matching fabric. I did a real professional job with my glue gun. (Not.)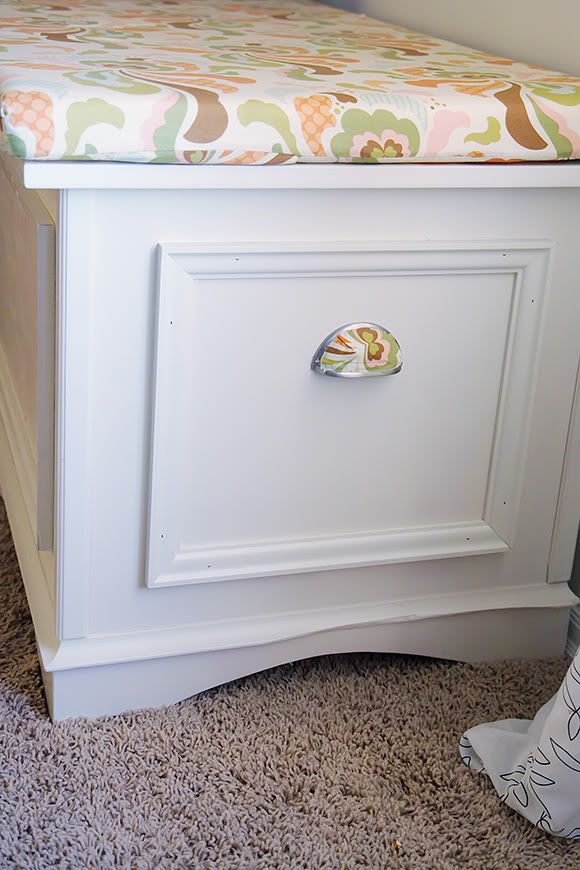 Derick built this hope chest for me for Christmas when we were dating...biggest surprise ever. He would work on it whenever we weren't together...which was never. Which meant that he worked on it at 3am in the morning usually (don't judge) :), and a couple of nights when he convinced me he needed to go Christmas shopping. I was ticked we weren't hanging out, and told him I'd rather not have any presents if it meant we didn't get to hang out that night. And then when he said he needed to go shopping AGAIN (a third time), because he wasn't finished yet, I'm pretty sure I said something super sweet, nice and understanding like, "if you need to go Christmas shopping for me so much, you obviously have no idea of what you're even getting me, and so you probably shouldn't even be wasting your time shopping for whatever you happen across." Nice, eh? Ha ha...
Imagine my surprise! Anyway, it is all cedary-paneled and cute inside, and it was maple or something, and we spraypainted it cream about a year ago, added some square moulding on the front and sides, (I know you can still see the nail holes...and I like them), and now we toss LOADS of stuff in there, (like bumbo chairs and jolly jumpers and crap) and it's great!! And meaningful. Which is always the best in my books!