So I was all set to post the pictures I took for Jennie of her cute little girls today, but when I woke up this morning, I had a fb notification from my very-awesome friend Ashley Hill telling me I should enter Boston's room in Ohdeeodh's
Smaller Cooler
contest. I had thought about it the day before, but decided I was too tired to take the pictures! :) But then I thought, um, Boston's room is so TINY, AND it's a laundry room! Lol! I totally should enter it! So I went to work, taking the pictures, and an hour or so later I had submitted it! Though I was bummed to find out that being an international entry, I only qualify for a book as a prize! :O) Oh well, I'm sure it's a cute book! And LIKE I WOULD WIN ANYWAY! Seriously, not even everyone who submits their rooms gets picked as an entry...they have to choose you first to even BE entered! So that alone would be worth it for me! So of course, I had to share it here too...and I thought I'd share the sources and problems/solutions I found along the way too!
So here it is! All whopping 27.5 square feet of it all! The maximum the room could be for the contest was 75 square feet. Check! :) The submission form asked what my favourite thing about the room was, and I said my washer/dryer set! Lol! We bought them with our student loans...awesome, eh? They were a floor model, and I love that they are navy blue.
The red hooks are from an antique store in Edmonton, the 2 is from Anthro (given to me by my also very-awesome friend Jordyn), I collect 1s in Van's room, 2s in Boston's, and 3s in Baker's. The crib sheet/bumper was clearance at Target, and the bumper below the Target bumper (the blue and yellow one) was sewn for me by
Ducan Industries
. I LOVE them. They are affordable, and they do awesome work....they cut any size of foam you want and cover it for you. They did our whole camper and a few other small projects. Man I wish I could sew! Anyway, I added that bumper below because the mattress was a little small, annnnnd I thought it would be cute! Rug (softest rug ever) is from Costco.
I got this B from the craft store on the Coutts highway, glued some batting onto the top of it, and then covered it in this wood-grain fabric with my glue fun. Don't look too close! ;) The crib and mattress was bought for $60 off Kijiji. I painted that crib by hand when I was 8 1/2 months pregnant. It took five or six coats...and FOREVER. I should have sprayed it...my dad even has a sprayer...NEXT TIME right?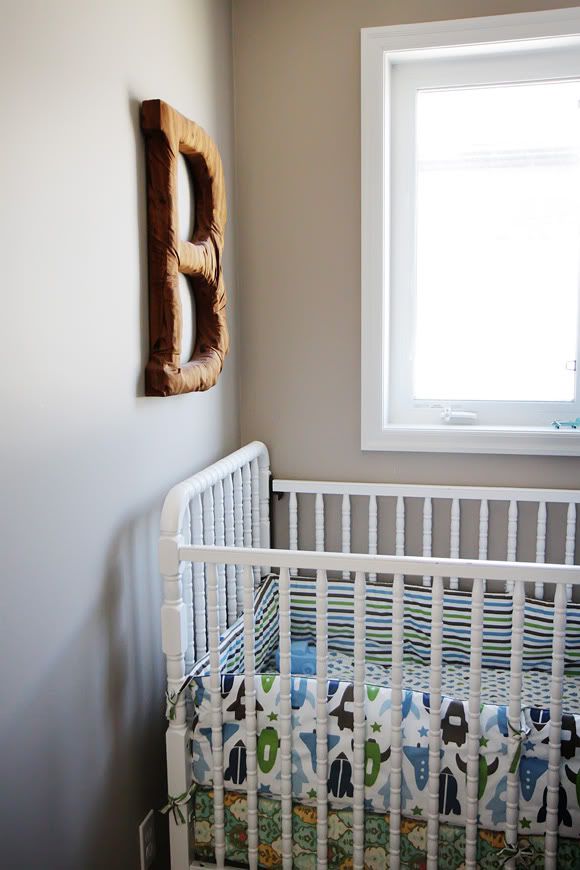 The wire frame B and green ceramic owl is from Urban Outfitters, the baskets are from Ikea, and I made the "love you more" print in Photoshop and printed it (too small unfortunately...hence the white border) at Costco. Wooden boat is from Mazatlan, Mexico bought straight from the guy who carved it (I love that about it!), and the plane is from TJ Maxx I think? Derick built the shelves...he's the best.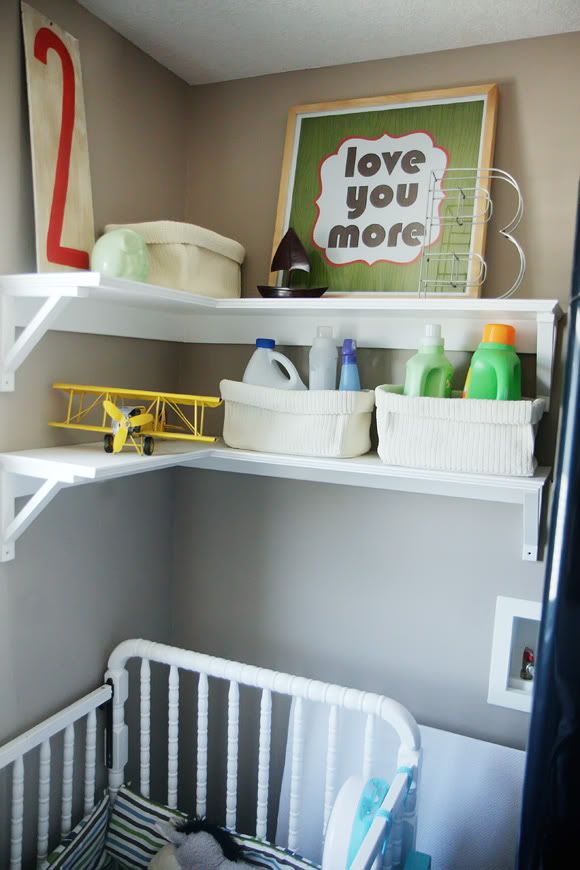 I looooove how much storage I was able to get out of the little hidden "closet" behind the door. The grey bins are from Superstore and smaller white ones from Ikea. That mini laundry basket is also from Superstore...I love it...we take them everywhere in the summer! :)
The window covering was a toughie! I needed something that completely blocked out the light, but also something Boston's mitts couldn't grab and pull out, and it also had to be something I could pop in and out quick so I could still let the sun shine in, AND it had to be cute, of course! Finally I thought of white foam board...and found a piece big enough at Office Depot. I cut out two the exact shape of the window, covered the front one in vintage fabric from my Grandma's old stash (that my mom had still), adhered the two together with REALLY sticky two-sided thick tape I use for scrapbooking, and then pulled the rope through. And it works AWESOME.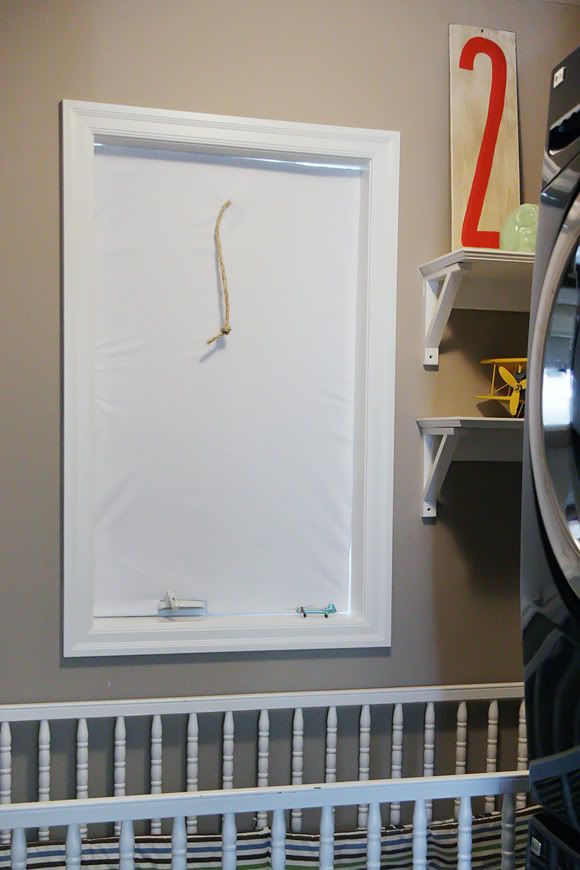 A closer look! :) You can also see the cute little vintage airplane I got at an antique store in Great Falls.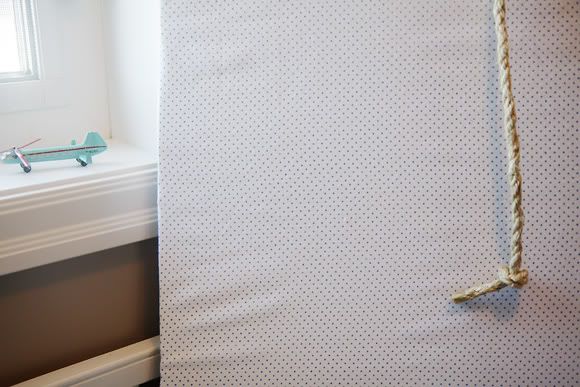 Anyway, this is the first thing I've "shared" with anyone outside fb and for some strange reason I'm totally nervous! Lol! I hope to eventually take pictures of every room in my home and put it on my blog, so I'm glad that one room is down...only like 10 more to go now! :)